All Of Us
Francesca Martinez
National Theatre
National Theatre (Dorfman Theatre)
–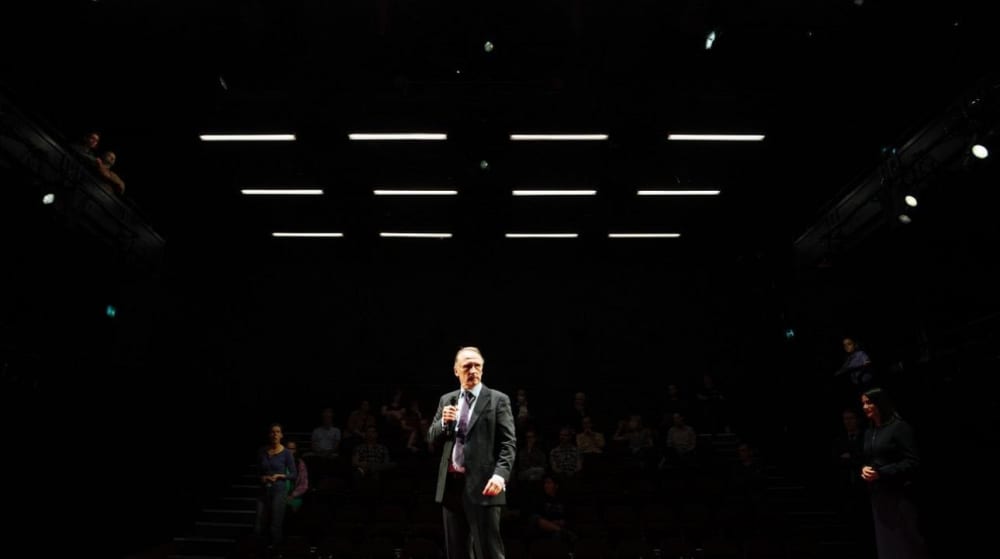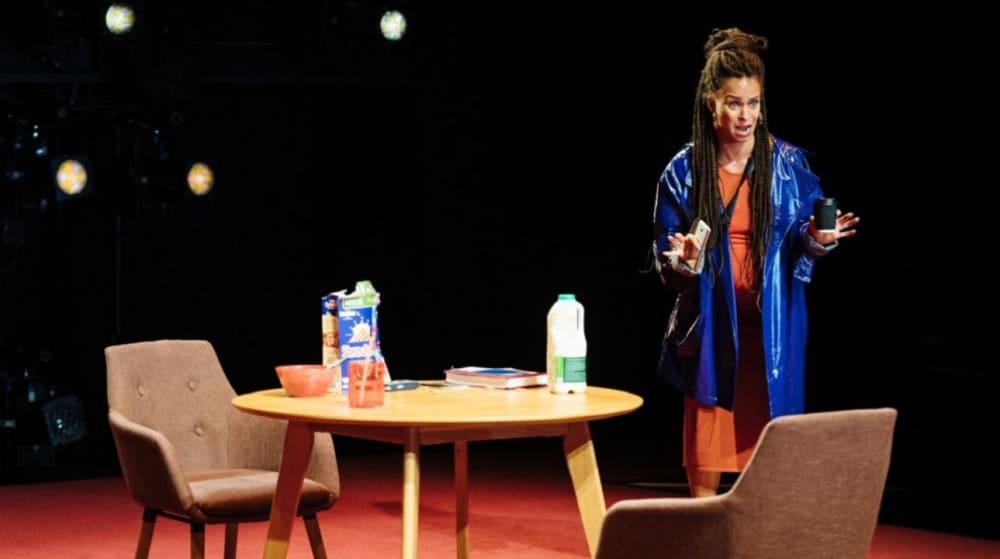 Both gut-wrenchingly serious and hilariously funny, Francesca Martinez's play is about disability and our response to it. Hard-hitting and angry, COVID cancelled its scheduled première two years ago, and since then continued austerity policies have made the situation worse for many who need support. All of Us tells it like it really is.
Like Martinez herself, her central character Jess has cerebral palsy (though she prefers the less clinical "wobbly"). It is difficult to hold things so she can't cook, buttons are impossible to deal with and indoors she gets around on her knees, but that hasn't prevented her getting her PhD.
We see her first in a psychotherapist's consulting room, not as the patient but the practitioner,. It is a session with agoraphobe Rita (Lucy Briers), a reminder that not all disabilities are physical. Rita finds making it past the 14 lamp posts and 7 trees in her street a challenge but since COVID, her constant hand washing isn't so obvious.
Jess seems an excellent therapist but, though so supportive of others, she never asks for help herself, not even from best friend lesbian Lottie (Crystal Condie) who shares her flat. However, Aidan (Bryan Dick), an alcoholic who is another client and a reluctant one, does respond in his own way.
Jess is due for a new care needs assessment, the rushed social worker peremptorily checking off points as Jess honestly answers. It will result in the loss of her Motability allowance, she can't get to her consulting room, can't do her job.
Jess's Polish immigrant carer Nadia (Wanda Opalinska) is also pressured: "here's a cheese sandwich, there's not time to put a curry from the freezer in the microwave," but she introduces Jess to Poppy, another of her charges. Poppy is of small stature. She needs carrying, help with dressing and going to the toilet and is in pain but is also a feisty 21-year-old rushing around on her motorised wheelchair and busy on Tinder with some success. Poppy is a noisy contrast to Jess. "You have to be nice to be accepted," says Poppy, but this self-styled "groovy floozy" is a fighter until it becomes too much.
When the local MP has a Q & A session, more public than his usual surgery, a very vocal Poppy is joined by others scattered through the audience outraged at benefit cuts, including an Afghanistan vet with PTSD, an outcry met by unlikely promises and requests for patience. With the lights up and Michael Gould's performance of the complacent MP Hargreaves, it's so pertinent you want to pitch in.
When Jess is rushed off to A & E after an accident at home, we see how little even a doctor understands about CP and All of Us does an excellent job in raising understanding and awareness of need and failure to provide for it.
A slowly turning revolve gives everyone a rounded view of several scenes and the play has a similar element of contrivance to provide the wide picture and to link Jess with the politician's own background but doesn't make it any less effective. Under Ian Rickson's direction, the whole cast play with conviction.
Jess describes this as a world where "there is no room for us," but that can't be acceptable. All of Us is a cry from the heart and a stimulating piece of theatre. If disability has not already had an impact on your life or that of those around you, it may be an enlightening aid to understanding not only of what people can't do but the support to enable them to succeed in what they can do and ensure that they get it.
Reviewer: Howard Loxton