All or Nothing: the Mod Musical
Carol Harrison
Rock 'n' Roll Productions
Opera House, Manchester
–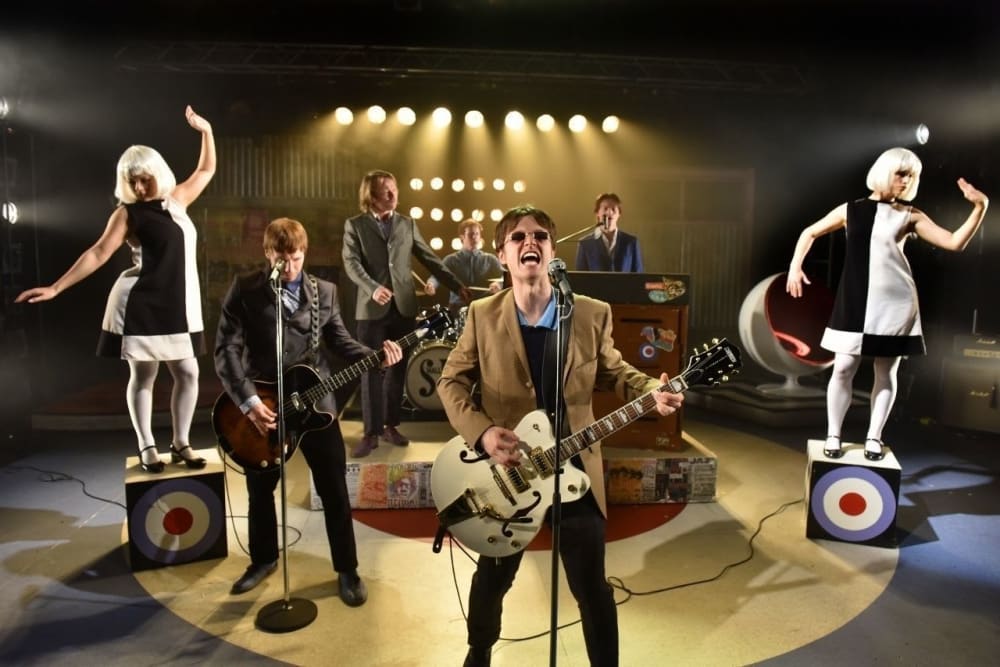 A brand-new show, about '60s Mod band The Small Faces, takes its name from their first big hit "All or Nothing"—but at the moment "Less of Something" is in order.
This is a shame, since there's evidently a lot of love and affection poured into writer and producer Carol Harrison's stage play. She also plays the mother of pivotal lead character Steve Marriott, singer and guitarist with the band.
Perhaps her three roles in the production have prevented an objective eye being cast on the material, the sheer weight of which swamps the story with detail—and not enough of the music.
There's just too much information crowding into a plot that follows the familiar story arc of so many '60s bands: the random way in which they come together; fall out; are exploited by managers; and are ruined by hedonistic excess.
Since the Kinks' musical Sunny Afternoon came through the city only weeks ago, there are bound to be comparisons. That show at least largely ditched plot and majored on the music.
All or Nothing is just rough and raucous, which may be its only saving grace, once it has shaved its running time by 20 minutes or more. At the moment it still feels like it is at the workshop stage.
Two Steve Marriotts certainly don't help. One stalks the stage and the stalls as a frankly irritating Older Steve, while the other (Tim Edwards) gets too little time to apply his authentically-shrill voice to the music.
Then there's the rogue's gallery of walk-on roles for other '60s icons. An A to nearly Z of real-life characters, ranging from the Faces' hoodlum manager Don Arden (father of Sharon Osborne) to gobbledegook Stanley Unwin (ask your grandad!). Dropping several of them would be no loss to the story. Honourable exceptions have to be singing cameos given to Sophia Benn as Dusty Springfield, and Dami Olukoya as P P Arnold.
Throwaway gags about one or two other contemporary names border on the tasteless.
The ending is also over-wrought and over-written, a maudlin and melodramatic coda between mother and son which ends in a miserabilist encore of "All or Nothing", leavened only by an inevitable audience singalong after the walkdown.
Like those shiny vintage Vespas lined up outside the theatre, this show will benefit from some polish.
Reviewer: David Upton