All Quiet On The Western Front
Erich Remarque
Incognito XYP
Pleasance Courtyard
–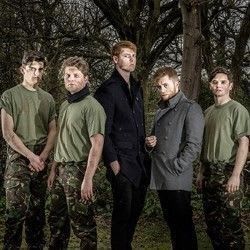 Over the years, Incognito Theatre has established a reputation for high quality performances with a strong physical production style.
In this visceral and breathtaking production of Remarque's All Quiet on the Western Front, the horrors of the First World War are painfully explored from the German perspective.
A group of schoolboys are encouraged to join up by their teacher to fight for the Fatherland. At first, it's viewed as an adventure as the new recruits go through basic training but not without receiving casualties.
All to soon, it's time to go to the front and their lives change forever as they face the carnage of the battlefield.
Their journey is one of snatched moments of near normality with a touch of macabre humour such as the killing of a pig for food and finding a bottle of wine and safe shelter from the barrage of the ever-falling bombs in contrast to the vicious fighting.
The battle scenes are a frenzy of action accompanied by overpowering sound and lighting effects to create the confusion, fear and ultimately death. Only 32 out of 180 men in that company survived.
The cast of five give highly impressive physical performances with strong, striking images and it's visually stunning.
This moving story is told with passion and total commitment from these exceedingly talented actors who breathe a youthful life into the characters they are playing.
Skilfully directed by Roberta Zuric, this production should be at the very top of your must-see list and richly deserved the standing ovation. It's simply outstanding—kill for a ticket.
Reviewer: Robin Strapp