All's Well That Ends Well
William Shakespeare
Shakespeare's Globe
Sam Wanamaker Playhouse
–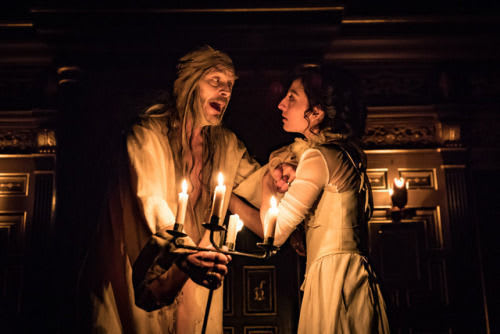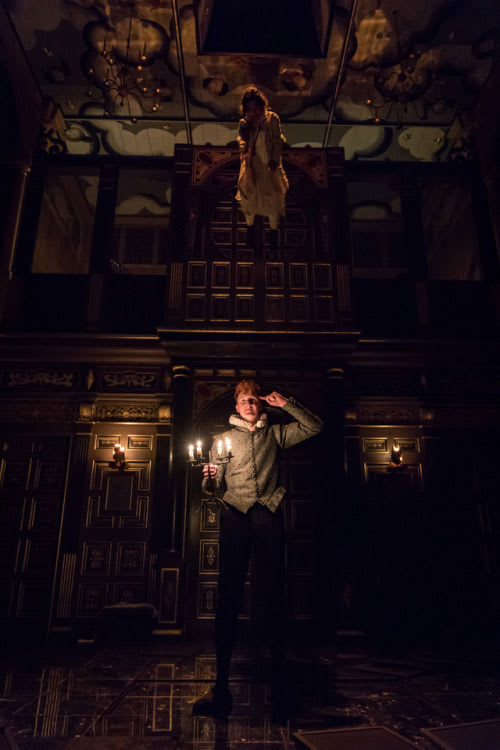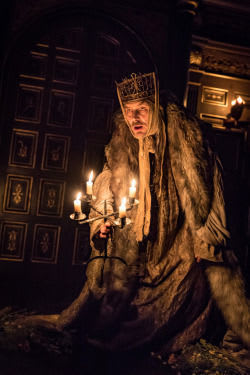 All's well that ends well. But does it? It is a title that perhaps needs a question mark.
Like the marriage proposed at the end of Measure for Measure, Viola paired off with a man who got close to her as the other sex, why should Helena in this play end up happy with a man who had rejected her? But perhaps it is not about happiness but restoring order that is important and Shakespeare is always very good at apparently happy endings (especially with his late romances).
Shakespeare give us an unsympathetic young prig and a conniving young woman who uses subterfuge to outwit him then puts us on the girl's side because she is pure and beautiful. It is a dark piece, bleak rather than romantic, that suits the candlelit shadows of the intimate Sam Wanamaker Playhouse and darker than usual in this production which seems to have cut the candlepower.
Director Caroline Byrne has treated it like a Grimms' fairy tale and given the women most importance—and given the company a 50:50 gender balance by gender-blind casting. With her dramaturg Annie Siddons, she has cut quite boldly, excising some comic matter no longer funny to a modern audience, added ritual and introduced some new songs.
Helena, orphaned daughter of a noted doctor, is living in the Count's household. She is held fondly by the Countess but Bertram, who now succeeds his father, thinks of her as a servant. Even before the others enter, still mourning Rossillion, for the leave-taking between the Countess and Bertram who has been called to the French court, Helen is in the shadows on stage: a menial mopping up the floor (not for the last time), a reminder of her low social standing. Is she really treated as a servant despite the Countess saying she thinks of her as a daughter?
The King of France is ill, probably dying. Helena's father might have been able to save him and now she follows Bertram to court believing something her father taught her might cure the King. It does and in reward she asks for Bertram as her husband. He marries at the King's command but avoids consummation by going off to war, informing her in a letter that until she can take the ring from his finger and produce a child he has gotten on her he will not be her husband.
Ellora Torchia is an attractive Helena but Will Merrick's impatient, shrill-shouting Bertram wants a wife with blue blood before beauty. It is difficult to see him through Helena's eyes: what makes her love him? But she does and, remorseful that he has gone off to danger, goes on pilgrimage. She sets off for to Compostella but somehow is in the same town as Bertram and, discovering that he is trying to seduce a young woman, uses "the bed trick" (swapping places like Isabella and Mariana in Measure for Measure) and meets the conditions Bertram thought foolproof.
We are presented with some intriguingly choreographed slipping between sheets and this production gives us not pill or potion to cure the king but a ritual bathing which is echoed in a restorative bathing of her own. When she becomes a pilgrim, Helena also gets carried skywards, though what this symbolises is uncertain, especially since it is Bertram who hooks her up for flying.
Perhaps we should not look for logic. Both actors play their character in the moment. Helena is a woman who gets what she wanted: she's open and honest seen in dejection and from deep concern to confidence and determination. Proud Bertram becomes a randy soldier lad and then a father who melts when he sees his own offspring (on this stage, nine months can pass in a flash).
Martina Laird gives the warm-hearted Countess a strong stage presence and is even more gently understanding as the mother of Diana (spirited Paige Carter), the girl Bertram wants to bed. Hannah Ringham makes a rather dry clown and Imogen Doel is a popinjay Paroles (a companion of Bertram's who gets his comeuppance in a subplot).
Nigel Cooke is a broken-down King of France, on his last legs, who blossoms in reborn golden glory after his bathing, a fine voice in a well spoken company, as is Robert Pickavance as aging courtier Lafeu who is probably speaking for many in the audience when, as the play draws to a close, he declares: "mine eyes smell onions." Shakespeare knows exactly how to produce that effect and this production delivers it too. But that question mark remains.
Reviewer: Howard Loxton