All the Bens
Ian Townsend
Northern Elastic Theatre Company
New Century House, Manchester (24:7 Theatre Festival)
–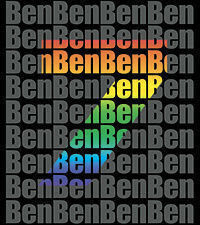 Ian Townsend's final 24:7 play—there is a rule that a writer can only have three plays in the festival so that new writers can continually be brought through—has a very simple staging with just three actors talking mostly to the audience and sometimes to one another. It's a style reminiscent of early Conor McPherson (especially This Lime Tree Bower) and one that is difficult to pull off, but at its best it can go to the heart of true storytelling theatre.
Ben is gay. "Al"—probably not his real name—is someone Ben hooked up with through Internet chat rooms and then met up with for sex but doesn't seem keen on exchanging details to meet up again. Henry is Ben's brother with an unspecified learning difficulty that means he acts like a young child but is obsessed with numbers, particularly the number seven. He grades how well his day has gone by numbers with a 7 being the ultimate, hence his astonished reaction when Ben describes Al as a "seven and a half".
The plot is simple and quite loose, but it is compelling and charming throughout nevertheless. Ben is pursuing Al, but Al insists that he isn't gay despite what they did together, but he does share with Ben his obsession with visiting A&E at the local hospital and trying to work out what is wrong with everyone. Al also forms a surprising bond with Henry, which ties the three of them together.
This is a lovely piece with lots of humour, some really touching moments and characters that are really well-drawn and easy to like. The title makes no sense at all until the final minutes of the play, which is such a satisfying moment that I can't spoil it by giving it away.
The whole thing is put across by three young actors who work superbly together: Dominic Vulliamy as Ben, Thomas McGarva as Al and Daniel McCann as Henry. It is perfectly paced by the light touch of director Martha Simon and most certainly a highlight of 24:7, as well as a perfect parting shot by Townsend as he leaves the festival.
Reviewer: David Chadderton