All the Nice Girls

Behind the Lines
Sweet Grassmarket
–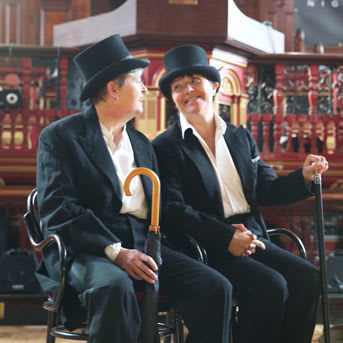 Evidently crafted with love, All the Nice Girls is an informative and entertaining glimpse into the lives of lesbian music hall performers.
Hopping from past stars to the present day, Ali Child and Rosie Wakley step in and out of music hall songs taking on the personas of the time—Child spending much of the time as Ella Shields, originator of "Burlington Bertie".
They open the show dressed as a sailor and soldier performing "Ship Ahoy" and "Jolly Good Luck to the Girl Who Loves A Soldier", setting a relaxed but cheeky tone. Although given lyric sheets, the audience needed no prompting to join in—which boded well for the group song later on.
It is the music that really drives this production and they somehow manage to fit 15 songs into the short piece. With the earliest dating from 1909 and the latest to 1932, the range of style and subject matter gives a good overview of the period and balances comedy and romance well.
Wakley is endearing in the comical "Why did I kiss that girl" whilst Child particularly shines in a moving rendition of Irving Berlin's "What'll I do?". Clearly extremely comfortable on a stage, she visibly relishes the variety of performance styles that the repertoire demands.
The linking material is not quite so polished and, although subject to time restraints, there is room here to explain more about the context and the difference between the music and variety hall career routes which are alluded to.
The narrative does also jump about slightly and perhaps an expanded introduction would solve this and make the storytelling arc a bit cleaner.
This is a fascinating historical time period, which is often neglected, and it is refreshing to see the stories of these women, so famous in their day, reflected on a modern stage. There is great potential in the script and if I could award half stars I would as there is far more to be unlocked.
Reviewer: Amy Yorston