All Wrapped Up
Ellie Griffiths
Oily Cart
Arts Depot
–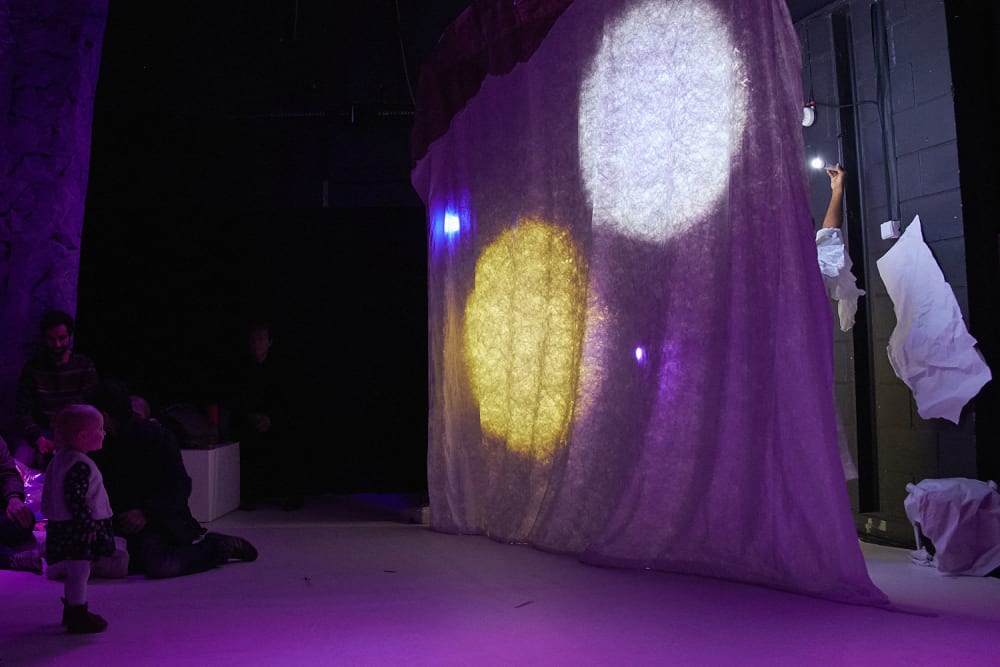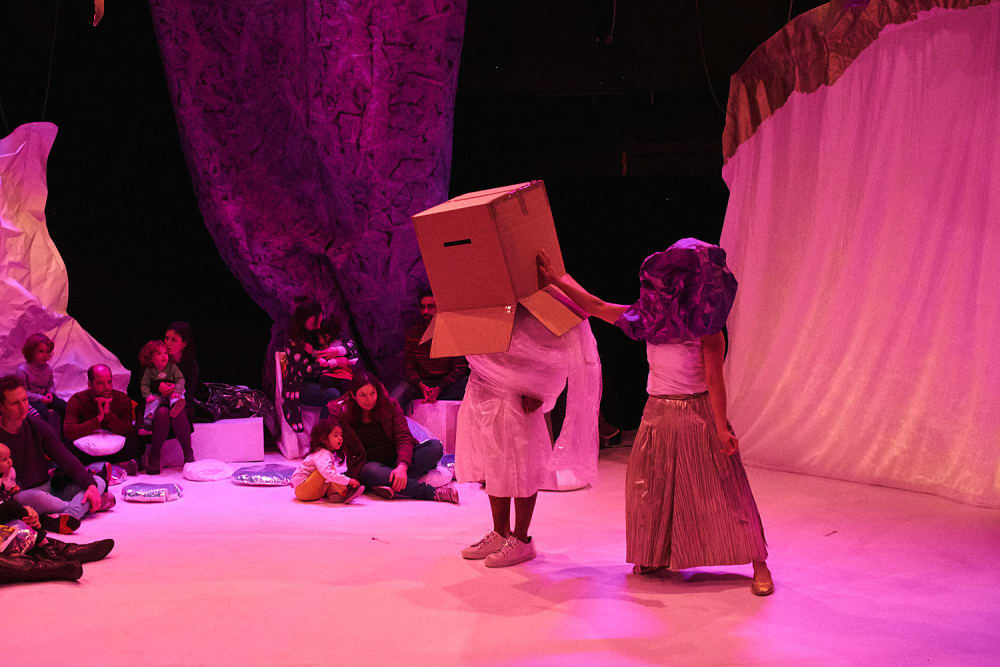 This new show, aimed at the under-fives, is ample evidence that when Ellie Griffiths took over the artistic direction of the pioneering company that Tim Webb, Claire de Loon and Max Reinhardt set up in 1981, Oily Cart made a good choice. It continues the pattern of exploration they established and matches their high standards.
This non-verbal entertainment stimulates the senses and the imagination in a sequence of engrossing episodes that often offer the opportunity for direct involvement using materials the potential of which they can continue to explore at home.
Inspired by the wrapping of presents, it is built around paper, cardboard boxes, bubble wrap and sticky tape in a magical world of music and light.
Half an hour before the show proper, performer Aya Nakamura, her hair done up with paper curlers, is greeting early arrivals among a scatter of wrapped gifts. She shakes them to hear what might be inside and invites youngsters to guess too; meanwhile, some start using boxes as building blocks.
Aya is joined by Phoebe Kemp and, as start time gets nearer, everyone gathers on the floor in front of the theatre entrance, which is sealed with big sheet of paper. (There's a small arc of chairs for parents and carers.) Setting up the pattern of what is to come, they are encouraged to explore the texture of crumpled paper and plastic and discover the noise it makes when handled. Spots of light appear on the paper barrier, changing size and moving. Aya produces a torch, a light spot from her side and uses her hands to make shadow images until a tear appears in the paper which, made larger, allows everyone to go through into a twisting black tunnel with scrunched paper on the sides like stars in the night or little clouds.
This leads into a space hung with torn paper and white cloth. There are round, white cushions and platforms you can sit or stand on that are gently vibrating. It feels as though you might be up in the clouds.
Games with dancing spots of light continue. That may sound simple, but the children have eyes wide with wonder. There are boxes with lights inside them, you can make your own shadows, see what happens when you hold transparent wrapper over them. Then there's a big shadow on one white sheet; it's a clown-like dancer, but when the sheet is pulled down, he hides his face. It is Lee Phillips who then appears, his head hidden in a cardboard box. Aya hides her head and they dance.
There is a sequence with a light wrapped in bubble wrap, a big ball that is rolled out to tiny tots for them to roll back then tossed to bigger folk.
A roll of plastic sticky tape is produced and stretched out around audience fingers making a mesh right across the space. Lee dances under and between it as it is raised and lowered; a brave boy joins in. Then there are lots of torn triangles of paper to help turn the tape into bunting.
There is much more: sheets raised and lowered for different effects, swung around to make a wind, Aya unwraps a box and finds a bundle of bubble wrap that turns into a dragon—or is it a dinosaur? The audience seems to want it to go on for ever but after an hour Aya puts her dressing gown back on, we must follow her and leave: it has ended.
Atmospheric lighting and music that ranges from Arvo Pärt sonorities to friendly tunes create atmosphere and mark changing moods and it all comes together with a special kind of magic that makes simple things powerfully effective. This may be for the under-fives, but take a little friend and you'll have a great time, not least from seeing the concentrated engagement on those young faces.
Reviewer: Howard Loxton