All Creatures Great and Small
Adapted & directed by Simon Stallworthy
Gala Theatre, Durham
(2010)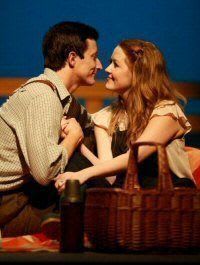 For the first time ever, so the Gala Theatre marketing material proclaims, the 'tender and heart-warming tales' written by Sunderland-born Alf Wight, who is undoubtedly better-known by the pseudonym James Herriot, have been 'brought to the stage in a major new dramatisation that will be one of the theatrical highlights of 2010'. Talk about setting yourself a tall order!
The challenging task of adapting and directing the piece has been taken up by Simon Stallworthy who, since joining the Gala in 2005, has directed all of the Gala's in-house productions. To be fair, it is not an easy undertaking: how do you represent the dales and moors, farmhouses and public houses of Darrowby and the surgery of the Farnon veterinary practice all on one stage? Well, Sarah Oxley is to be congratulated for having designed a set that is visually impressive and which works fairly practically, too.
That said, the production is let down by several other factors. Obviously, it is impossible to have real livestock on stage so cattle are represented only by sound effects, whereas stuffed toys are used in place of domestic animals. There is, however, a real 'Tricky Woo' but he was "unavailable" at the last minute on the opening night and has since been replaced.
This production is an adaptation of Herriot's first two novels, If Only They Could Talk and It Shouldn't Happen To A Vet, unlike the TV series, which was an adaptation of all the books. The production feels achingly formulaic as it chronicles both Herriot's professional journey, from being a newly qualified outsider to a trusted and respected vet, and his romantic encounters, through his awkward courtship of Helen Alderson up to their eventual marriage. It is hampered further by a pace that is slow rather than gentle.
On the positive side, there are some good characterisations from the cast, which includes Ben Ingles as James Herriot, Henry Everett as Siegfried Farnon, Jack Wharrier as Tristan Farnon and Samantha Phyllis Morris as Helen Alderson. However, the characters are so synonymous with Christopher Timothy, Robert Hardy, Peter Davison and Carol Drinkwater/Lynda Bellingham, respectively, that the stage cast never totally convince in the roles.
Unfortunately, my diagnosis of this ailing production is that it would be kinder to put it out of its misery.
Runs until Saturday 16 October 2010
Reviewer: Steve Burbridge