All Quiet on the Western Front
Erich Maria Remarque; adapted for the stage by Robin Kingsland
Nottingham Playhouse
(2006)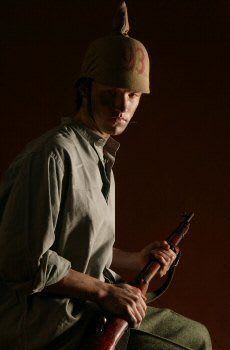 It's taken nearly eighty years for Remarque's remarkable novel about the First World War - he wanted "to report on a generation that was destroyed by the war, even when it escaped the shells" - to be turned into a theatre piece. And that happened almost by accident.
Robin Kingsland went to look for a book to keep him occupied when he turned up early for a performance of one of his plays. He found All Quiet on the Western Front. He challenged himself to adapt it for the stage. While rehearsing for his part as Hollywood actor Peter Lawford in the Nottingham Playhouse production of Rat Pack Confidential, he mentioned to artistic director Giles Croft that he was writing a stage version of All Quiet.
Croft told Kingsland it was one of his favourite books and encouraged the writer to finish the script. The result is an immensely moving piece which is at times touching, harrowing and even quite funny.
It's not as bleak as some other plays about war, such as R C Sherriff's Journey's End, but it's just as poignant because it's told from the Germans' point of view and illustrates graphically that soldiers do as they're told. As one of them points out when he kills one of the enemy: "I didn't have a choice - we kill or be killed."
All Quiet records how Paul Baumer, a butterfly catcher fresh from school, and his mates enlist in the German army when their patriotism could hardly have been greater.
However, they soon find that their aspirations and dreams are shattered because life in the trenches is starkly different from what they were anticipating. As one of the regiment remarks, "We were going to take the future by storm. Now the storm's taken our future."
Mark Dempsey is astonishingly good as Baumer. We get a real sense of the character's youthfulness and innocence which quickly disappear as the challenges of war sap his resilience. Dempsey shows palpable fear when he's lost his pistol during battle; anguish when he stabs one of the enemy but can't finish him off; and torture when he finds his hands are covered with the other man's blood.
Nine other actors play members of Baumer's regiment and keep the action moving along at a brisk pace. Whenever you settle back and think nothing untoward is happening, you're immediately jolted out of your complacency by a cacophony of war noise. It's surprising just how effective a harmonica and a slamming trap door can be to conjure up the sound of a bomb going off.
Croft directs sensitively yet without being sensational, letting Kingsland's script tell the tale just as Remarque would have intended.
Phil Brunner's set, a split-level creation which earned him the Linbury Biennial Prize for Stage Design last year, adds to the atmosphere.
The only thing which bothered me about the production was having two women playing soldiers. Rachel Edwards and Sara Poyzer did a fine job but why were they taking men's roles?
Apart from that, this is a superb production in every sense. It's taken an exceptionally long time for someone to realise the potential of All Quiet on the Western Front as a stage play. It's every bit as powerful and perceptive now as it was when Remarque first wrote the novel.
"All Quiet on the Western Front" runs until February 25th
Reviewer: Steve Orme