All That Is Solid Melts Into Air
Presented by Tangled Feet in collaboration with Thomas Tallis School
Greenwich and Docklands International Festival
Greenwich Park Centre
(2011)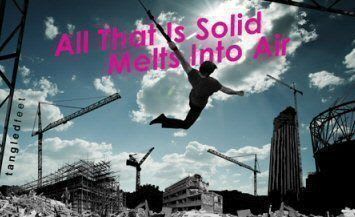 We arrive at the entrance to Greenwich Park Centre and a handful of fluorescent-vested building site workers direct us round the corner to a school playground, hidden from view of the street. There a tower of scaffolding, set just in front of the façade of the main school building, confronts us. It's purpose-built for Tangled Feet's new show, All That Is Solid Melts into Air, devised specifically for the Greenwich and Docklands International Festival, and co-commissioned with Thomas Tallis School. Thomas Tallis are moving to a new school building as their original home is being demolished; this very much cements their connection with Tangled Feet's show, which is about urban development, destruction and re-building, and the imprints that are left on the city by the lives that have passed through it.
The complex structure of multiple platforms on several levels, interlaced with rigged ropes, is Al Orange's effective design for a piece which is essentially concerned with progress and ascension. But also, crucially, remembrance of things past. The building site workers who have guided us in proceed to get to work on the scaffolding - furthering the construction of whatever new thing they are making - but are stopped in their tracks by a sweet visual coup: two bodies are found under the new building's foundations and winched up on ropes.
They're fresh corpses from 70 years ago; and as they spring to life we're immediately shot back in time to World War II and the Blitz, to witness the exuberance of young Londoners in the face of the almost constant threat of death. As their world collapses around them, the young people dance.
We then race through history and see the spirit of postwar optimism which led to the rebuilding of the city and to new social housing schemes: in a nice touch, the performers pull down rolls of flowered wallpaper to transform their platforms instantly into cosy living rooms. This sequence is about people climbing the metaphorical ladder of social security and respectability - until, that is, the property development boom begins, a pack of developers and investors (somewhat like the pack in Enron) descends, and the lives we have had a glimpse of, the couples and their young children and their routines and coming and going and neighbourly chats and all their hopeful work, are all swiftly deleted.
The quietest and most moving element of the show follows: a young couple, in pyjamas, suspend themselves from a rope and a hoop and with endless care and calmness they cradle their baby and pass it back and forth between them. It's a potent image of the precariousness of life - especially in London, when a home is rarely a permanent thing and the prospect of being stranded in a sort of shelterless limbo is always there.
Finally, we're shot back into the present, and the performers become a group of kids who swarm over the structure: for the first time in the show the intricacies of the structure are properly recognised and exploited, as the kids scramble all over the place, balance on the supporting poles, swing and jump from platform to platform, and generally just try stuff out and egg each other on. It's strongly influenced by parkour, and it's infused with a sense of delight, energy and an appreciation of the structures we're able to create. As the performers dance and play, kids from Thomas Tallis run onto the site and join them, clapping and jumping and dancing a routine (to great celebratory music by Nick Gill) in loosely synchronised fashion. They have bunches of striped construction site tape in their hands and they pull it through the crowd like streamers, and attach it to the scaffolding so that eventually the performance structure resembles some festival arena or mad parade float.
I spoke afterwards to the directors o f All That Is Solid Melts into Air, Nathan Curry and Kat Joyce, and they described how they wanted to end on a note of youthful exuberance and looking towards the future - while making sure that the play presented both sides of the argument: the positive outcomes of urban development, but the negative side as well, namely the lives that can suffer as a result. The issue of remembrance, they agree, is crucial - acknowledging the history of a site and being aware of the countless personal experiences that have passed through a building and are in a sense infused in its brick and mortar, so that when the building is destroyed, they are lost too.
Ironically, Joyce says, the company themselves struggled to find a site for the show, as all the derelict pieces of land on which they had originally hoped to stage it were owned by property developers who weren't keen on the show taking place on their turf. The show is about the preciousness of land, and property, in the city, and how ordinary people can be denied their rights to these properties and this land - unless they find a way to reclaim them en masse. Tangled Feet's distinctive visual style allows them to create images and sequences that fix this idea in our head as powerfully as any other medium could.
Reviewer: Corinne Salisbury