Alluriat
Story: David Freedman; Choreography: Debbie Bandara; Music: Samuel Morris
Forest Tribe Dance Theatre
Bolton Central Library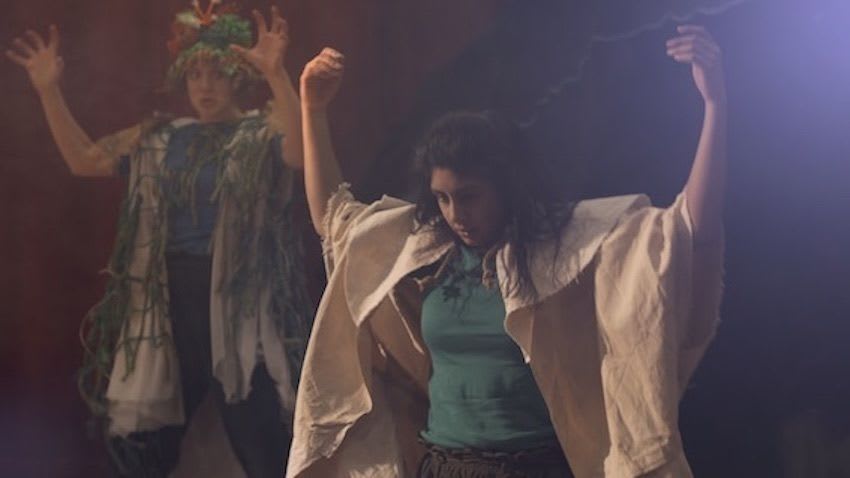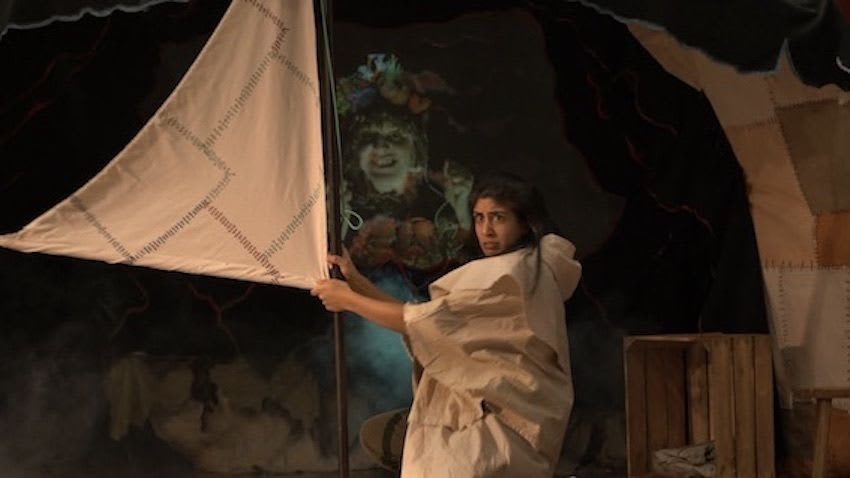 There are certain venues that have acquired almost mythical status as among the toughest gigs in show business: San Quentin state prison, Glasgow Empire, many a northern working men's club and, apparently the mere mention of the words, 'Bolton Hippodrome' used to be enough to reduce many a stand-up comic to tears.
As tough crowds go, I'd be inclined to stick any group of 7- to 8-year-old schoolchildren right up there with the worst of 'em (and I bet even the San Quentin crew weren't obliged to spend forty-plus minutes sitting on a hard wooden floor!). Terrifying.
Happily, Purvi Pamar and Jennifer Kay, performing Forest Tribe Dance Theatre's latest production, Alluriat, are brave enough and bold enough (not to mention talented enough) to bear sixty of these little lions in their den (which, this morning, is a small lecture theatre in the basement of Bolton's Central Library).
The set (designed by David Freedman) is an open-fronted tent, with a rear section behind gauze that, through clever lighting (by Owen Rafferty) and delightful projections, will become a coral reef.
Alluriat is dialogue-free, the story unfolding through dance, gesture, mime, sound and visual effects. It's a tale about love, kindness, greed, power and exploitation of the environment. This morning's audience are hearing-impaired children, but that's incidental. Good storytelling is good storytelling, with or without words.
A little girl, Joolta (Parmar), wakes up one morning by the sea. It's a beautiful day, she breathes in the fresh air and gazes happily out at the waves. Life is good. Joolta's sister Mettazayne (Kay), arrives. On Mettazayne's initiative, they begin to play. Sometimes, they fall out, but mostly they have fun, and Joolta introduces Mettazayne to her favourite puppet. The sisters become friends.
A terrible storm comes, sweeping the two friends out to sea. Though they try very hard, they can't quite hold onto each other. Mettazayne sinks beaneath the waves, where she is magically transformed into the Princess of the Coral. Although she wears a beautiful headdress of anemones, her new found status makes her bossy and even cruel. She bullies the lovely creatures of the reef—fish, jellyfish, a nervous lobster—imprisoning one of the most beautiful in a dark box.
Meanwhile, Joolta, washed up on a strange beach, has been found and given a home by a kindly old man (Kay). In return, she helps him with his sails (one of several interactive sequences, which clearly thrill the children, and there is a touching exchange when the old man thanks them for their help).
Joolta can't forget Mettazayne and, though it breaks his heart to see her go, the old man gives her a small boat to set off in search of her lost sister. As a gesture of her affection, Joolta gives him her beloved puppet.
As Joolta's sailboat approaches, the Princess of the Coral conjures up a storm. The small boat capsizes and Joolta sinks to the bottom of the sea, where the Coral Princess tries to make a human puppet of her. Joolta resists and, during the struggle, Mettazayne recognises her sister and the spell begins to be broken. In coming to herself, she has to throw off the trappings and relinquish the power of the Coral Princess. The lovely headdress goes, but most difficult for Mettazayne is to set free the beautiful sea creature. Nevertheless, she does it. Hand-in-hand, the two happy girls go home.
I make no apology for telling the whole story without giving a 'spoiler alert', because this is only my version. The sixty children in the room will each have his or her own interpretation (and at least fifty-nine of them will be better than mine).
Parmar and Kay, skilfully directed and choreographed by Debbie Bandara, do a fine job of engaging with their young audience—the gestures are expansive and clear, the expressions and moods always writ large and easy to read. The children's attention is held throughout by the performances; they are engrossed by the visuals and delighted by the interactive elements.
I confess, I watch the children in the audience almost as closely as I watch the show; when it comes to key stage 2 entertainment, they're the experts, not I. Post-show feedback sheets include three emojis, with the children being asked to circle the one that matches their opinion of the show they've just seen (Smiley, Bored or Sad). I saw a lot of smiley faces being circled.
There were a lot of smiley faces seated around the room, too. Tough crowd tamed. Where next for Forest Tribe Dance Theatre? San Quentin? The Glasgow Empire? I wouldn't bet against them.
Reviewer: Martin Thomasson