All the Way Home
Ayub Khan-Din
Library Theatre Company
The Lowry, Salford
–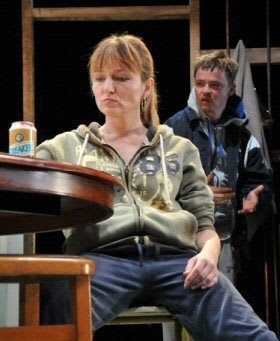 The last of the major theatres in Manchester to open its autumn season is Library Theatre Company, bringing together former artistic director of the Octagon Theatre in Bolton Mark Babych with a brand new play by East is East writer Ayub Khan-Din.
Khan-Din's All the Way Home is a variation on a well-worn theme of a dispersed family coming back together when one of them dies or, in this case, is dying so that old tensions can be aired and divisions between them either healed or made greater. Set in recent Salford during council "regeneration", the family gathers in the house of unseen Frankie on an estate that is emptying in readiness for the bulldozers moving in as he gradually deteriorates from, we assume, cancer.
Frankie's sister Janet has moved into the house to look after him and to arbitrate between family members. Sister Carol was estranged from the family after moving up in the world to Didsbury, and it becomes clear that the snobbery over her move works both ways. Sonia is the outspoken, foul-mouthed and volatile sister of the family, still nursing resentments over being kept away from her dying mother when she was struggling with a drug addiction. Phillip is the nice-but-dim brother with three kids that he never sees, and Brian is the brother they're proud of for making a successful career as a photographer, but there are resentments bubbling beneath the surface. Into this temporarily-restored family home come their mother's sister Auntie Sheila, who can be as stubborn and outspoken as Sonia, and her daughter Samantha with the mixed-race baby that she keeps forgetting about. Sheila has firm ideas of the way things should be handled and muscles in on the situation.
Although the premise is a familiar one, Khan-Din is a good enough writer to make it work with a great deal of humour, some beautifully-drawn and recognisable characters and enough well-observed situations to make everyone who has ever been part of a family feel slightly uncomfortable at some point. There is plenty of tactless and non-politically-correct talk that produces a few gasps from the audience but seems perfectly natural in the mouths of these characters, including plenty of casual racism that may have been much more controversial if written by a white writer.
There is the occasional piece of indulgent writing, such as the extended confessional monologue at the end of act one, and Khan-Din has a tendency to use soap-style endings where everyone stops and gives a meaningful look as the lights fade instead of reacting to what just happened. However this is an accomplished and entertaining piece of writing that has opened in just the right place, the result of that Salford "regeneration" that moved residents out in order to build houses they couldn't afford.
Mark Babych's return to a major stage in the region should act as a reminder to some in the press that the current success and high standard at the Octagon didn't begin with the arrival of David Thacker. His perfectly-paced production gets some great performances from all of the cast with characters that all tend towards comic types but remain real enough for us to believe in them. There are solid performances from the main three sisters Susan Cookson as Janet, Kate Anthony as Carol and Julie Riley as Sonia, with a tour-de-force from Judith Barker as an Auntie Sheila that we've all had and been frustrated by. Sean Gallagher gets the perfect measure of Brian, Paul Simpson is lovably pathetic as Phillip, Naomi Radcliffe is gormless as Samantha and James Foster makes a very brief appearance as the mysterious Mickey at the end.
Hayley Grindle's set is striking, placing the whole action in a kitchen built as a wooden skeleton decaying around the edges but fully-furnished on a platform hovering over a stage full of debris and angled to protrude into the auditorium, creating a powerful metaphor of one of the play's themes. Paul Gregory's sound design needs tweaking as the sounds of children's voices sound thin and unreal, but other effects such as the fireworks and Frankie's laboured breathing through the baby monitor work well.
This is a major new play from a well-known playwright premièring in Salford, which in itself makes it worth a look, but it also happens to be well-written, very entertaining and leave the audience with plenty to think about in this excellent production from the Library Theatre.
"All the Way Home" runs to 15th October 2011
Reviewer: David Chadderton