Alright Bitches!
Martin Blackburn
Above the Stag Theatre
–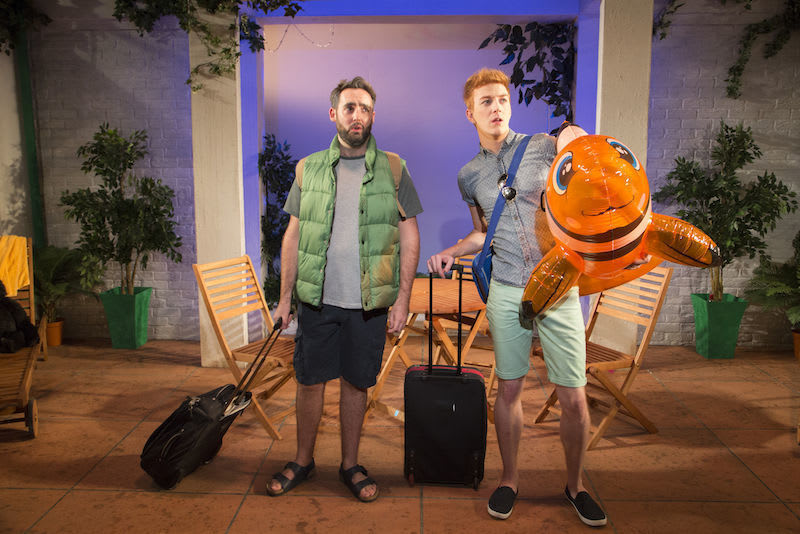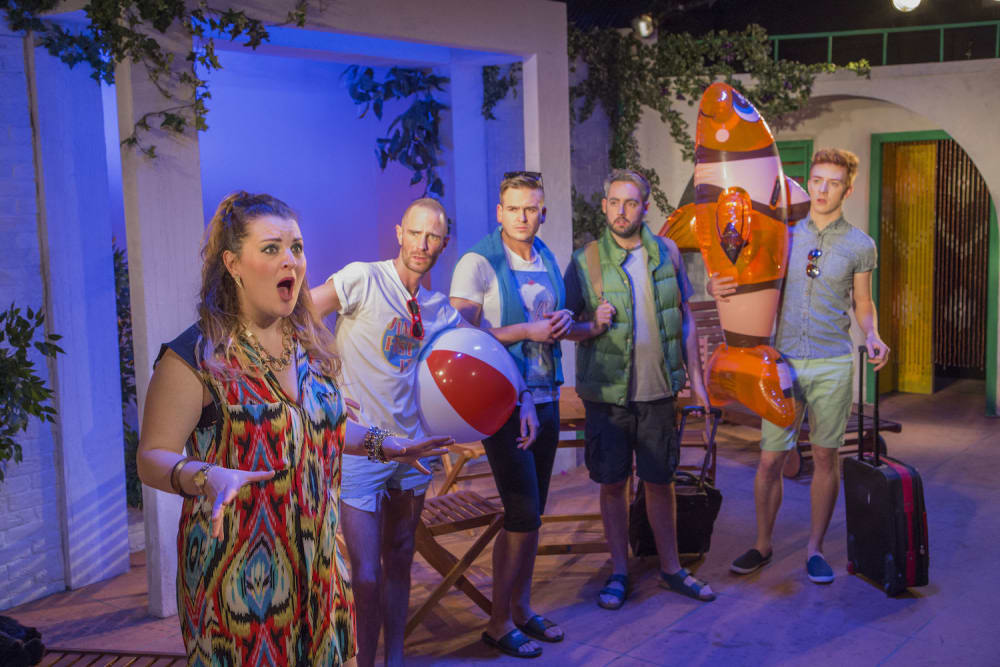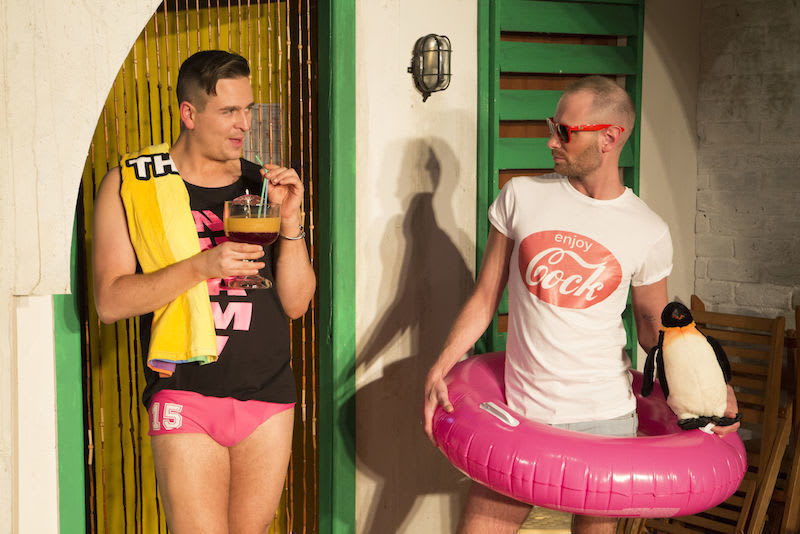 Martin Blackburn's debut play is tailor-made for London's dedicated LGBT theatre. It is set at the "Les Hombres" resort on Gran Canaria where bank employee Jason and courier Ollie are celebrating their first anniversary together with a gay package holiday.
It's not Jason's idea of a romantic escape: he took Ollie to Venice for a cultured sophisticated break; now he's faced with a place whose highlight is an eighties shopping centre. Much younger Irish Ollie's tastes are different and this is a holiday where he can afford to pay his own way, though that doesn't stop Jason from complaining: he'd rather be in Machu Picchu or trekking in the Himalayas. High camp isn't him: he's not even out at work, though you hardly need to tune your gaydar to know he isn't straight.
There is nothing discreet about the guys next door, old friends not lovers, here to celebrate a birthday. "Only Gay on the Beach" the towel on their lounger announces. Skinny Max, who flaunts t-shirts giving a gay twist to familiar logos, is "taking seven days away from Grinder." So comfortably cuddly Garth puts it, while sharp-tongued Max calls him "as passive as a pancake."
They've brought along their friend Pam, saying she's taking a break from men after her last disastrous romance (but you don't believe her) so she'll feel safe in this gay place.
There's not much plot: who will get laid, who will be unfaithful. This is a play designed for laughs and Blackburn is strong on bitchy humour. The script is packed with camp jokes and sharp one-liners. The characters you could call stereotypes but nevertheless you've certainly met them if you've got gay acquaintance and this is a play for gay guys to laugh at themselves.
Ethan Chapples as Garth is camply languid, Lucas Livesey's Max acidly outrageous and Grant Cartwright has a rather knowing innocence as Ollie, with the same charm that he brought to his professional debut in this venue's pantomime as Cinders. It is unlikely that Anton Tweedale's Jason will ever really let his hair down but he's not as uptight as one might expect. He might be secretly enjoying this.
Hannah Vesty's Pam is certainly letting her hair down; gay friends seem to be this lady's escape valve from her serious social worker life.
In fact there is a serious undercurrent to Alright Bitches! about compatibility and relationships, the changes to the social structures of gay life, despite the play's apparent superficiality. "Los Hombres", his character Jason says, "Noël Coward and Côte d'Azur is not!" and his play isn't quite Noël Coward either, more a budget all-in holiday version, but Andrew Beckett's production keeps its punters laughing.
Reviewer: Howard Loxton