Altar Boyz

Greenwich Theatre
–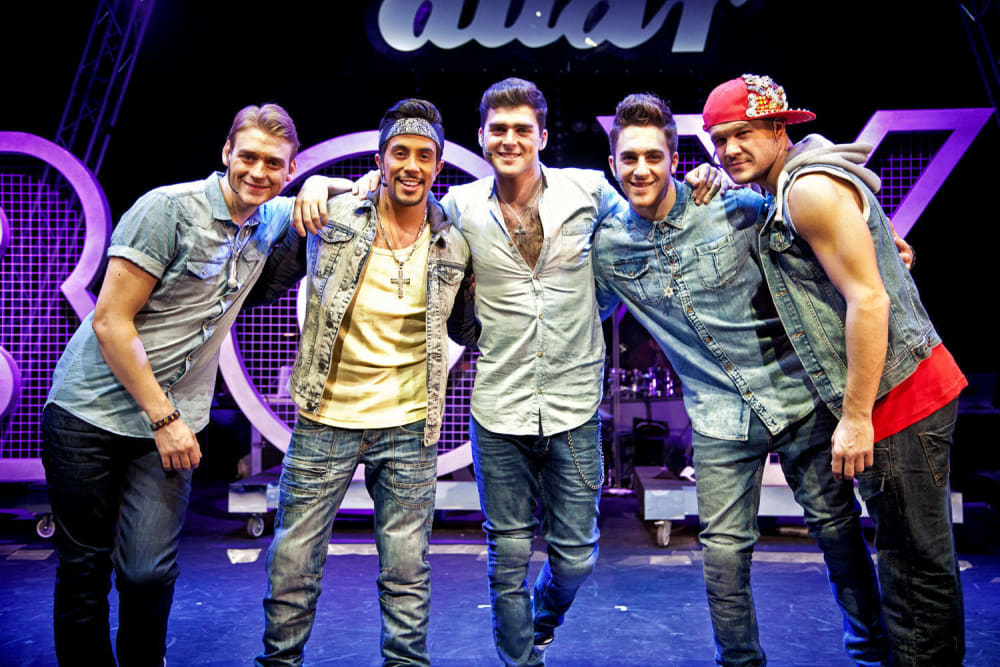 Steven Dexter's Altar Boyz is the latest off-Broadway cast off to hit London's Greenwich Theatre. The stage has been simply set for the five strong batch of heavenly hunks to perform the last night of their Raise the Praise tour. Their job is to sing the sins from our souls and rid the devilish audience of all the unholy demons that lie deep within.
Normally, the cleverly crafted array of Bible-bashing ballads and other passion-pumping tunes are more than enough to relieve every single sinner of their burden. But the finale of their successful tour doesn't quite go to plan and it leaves Matthew (Liam Doyle), Mark (Jonny Fines), Luke (Jamie-Ray Hartshorne), Juan (Faisal Khodabukus) and Abraham (Alex Jordan-Mills) baffled.
It's perhaps understandable this flimsy concept of boy-band meets God would work in the States, but completely inconceivable it will appeal to the masses this side of the Atlantic.
That's not to say the catchy mix of hip hop hymns and heavenly harmonies from all the boys aren't enjoyable. They are. In-fact, give me the soundtrack featuring the likes of "Rhythm in Me" and "La Vida Eternal" and I'd be a happy boy—just don't make me sit through the 90 minutes of nonsense linking them together.
Well not quite 90 minutes; there are a few moments of comedy brilliance, partly provided by the angelic looking Mark, but mostly from the consistently innocent-looking orphan boy Juan who has a mischievous twinkle in his eye throughout.
The whole show has the deliberate feel of a concert, so it is right and appropriate the live band are on the stage alongside oversized letters spelling B-O-Y-Z on wheels. These are intermittently used as props for the boys to swing, hide and drape themselves over at times in an attempt to be seductive. It doesn't work.
There are too few costume changes, made to reflect the differing moods of some of the songs. At one point, the lads don unflattering altar boy robes made from yards of cheap net curtains and powder blue cotton, in a bid to remind the more than 'up-for-it' audience they are modern disciples here to spread the word of the Lord. Luckily, these are whipped off before long to reveal just enough flesh to temporarily excite some of the flagging congregation at the back.
If you're up for a bit of a laugh and want to experience some fun, energetic and properly uplifting music, then Altar Boyz is well worth a trip south of the river. But, I suspect the boys will need to pray for some divine intervention if they want to sell to a packed house every evening during their limited run in London.
Good luck and God Bless boyz.
Reviewer: Thomas Magill