Alvin Ailey American Dance Theater Mixed Bill

Alvin Ailey American Dance Theater
Sadler's Wells Theatre
–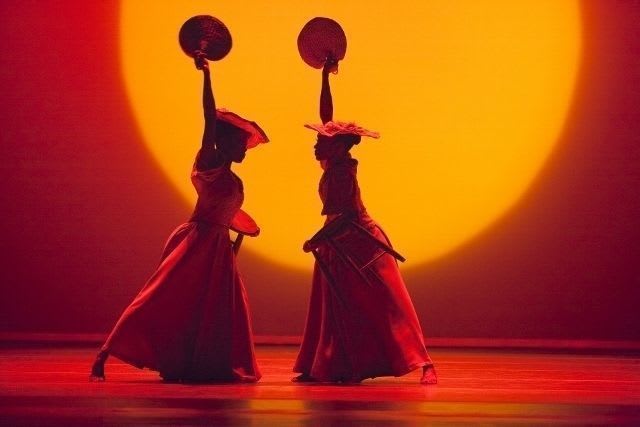 Presented by Dance Consortium, Alvin Ailey American Dance Theater returns to London to mark the start of its international tour.
Since the company's founding by Alvin Ailey nearly sixty years ago, the 32-strong troupe has performed to an estimated 25 million people worldwide. Artistic Director Robert Battle features two new works: Open Door and Piazzolla Caldera and Ailey's time-honoured classic Revelations, celebrating an evening of both African-American tradition and American modern dance.
Opening with Ronald K Brown's Open Door, this Cuban-inspired piece premièred last year is his sixth work for the company. Starring ten dancers and set to recordings by Arturo O'Farrill and the Afro Latin Jazz Orchestra, the first movement boasts Linda Celeste Sims and Matthew Rushing in an African-inspired lyrical duet.
Not dancing towards each other, but placed side by side, they move the length and breadth of their arms in exacting harmony to Luis Demetrio's La Puerta piano rendition. Sitting close to the stage, you can see the sweat drip from their costumes, their trance-like gaze reaching beyond the back of the auditorium, occasionally broken by a quick glance to one another. Palms open and synthesised with a repetitive hand motif, which has a likeness to grabbing for something that is not there, their feet on the other hand stay in close contact to the floor, tracing a square-shaped pattern on the stage.
Performed to more upbeat Latin jazz by Arturo O'Farrill and Tito Puente, a further eight dancers join the pair for the second and third movement. Working in line formations, the fluidity in their movement is a seamless transition, where there appears to be no beginning and no end. Grooving their upper body rhythmically before swirling at speed and laying out into the stillness of a classical arabesque proves Brown's ability to mastermind modern dance with African American heritage.
After the interval is a showpiece tango with a modern dance twist. Created nearly a decade ago, but first performed by the company last year, Paul Taylor's Piazzolla Caldera is divided into energetic segments, set to music by Astor Piazzolla and Jerzy Peterburshsky.
Starting with a confrontational duet danced under a spotlight, the movement is strong and powerful with arms held and upper body poised as they frenzy into a succession of chaînés across the stage. Reaching out into elongated balletic lines, Linda Celeste Sims is a centrepiece solo amongst a four of tango couples.
A series of drink-fuelled duets entitled Celos, Spanish for jealousy, which follow are performed under no fewer than a dozen lamps suspended from the ceiling swaying woozily in alternate directions against Santo Loquasto's dimly-lit set.
The evening culminates with Alvin Ailey's signature American classic Revelations, which since its debut in New York in 1960 has captured the essence of African-American history exploring themes from slavery to freedom.
The number opens with the dancers' storytelling through mime to the vocals of traditional spirituals. Dressed in Ves Harper's earthy coloured costumes, their steady sweeping arm movements, splayed hands and flutterings of the wrists combined with off-balance high-extended pivots are hallmarks of Ailey's athletic, yet elegant style.
Rhythmic, but with some off-beat nuances, Wade in the Water showcases a white-costumed ensemble acting out an on-stage baptism against an undulating sky blue silk which depicts the river.
Dancing in celebration under the harvest sun, the whole company return to the stage for the grand finale to the spiritual "Rocka My Soul in the Bosom of Abraham". With redesigned bright yellow costumes by Barbara Forbes, complete with fans and bonnets, the audience are brought to a joyful dancing ovation before the curtains have even drawn.
The number of curtain calls that follow are a testimony to Alvin Ailey American Dance Theater's appeal to wide-ranging audiences.
Reviewer: Naomi Cockshutt