Alzira
Giuseppe Verdi, libretto by Salvatore Cammarano, based on Alzire, ou Les Americains by Voltaire
Teatro Colon, Buenos Aires
Teatro Colon, Buenos Aires
From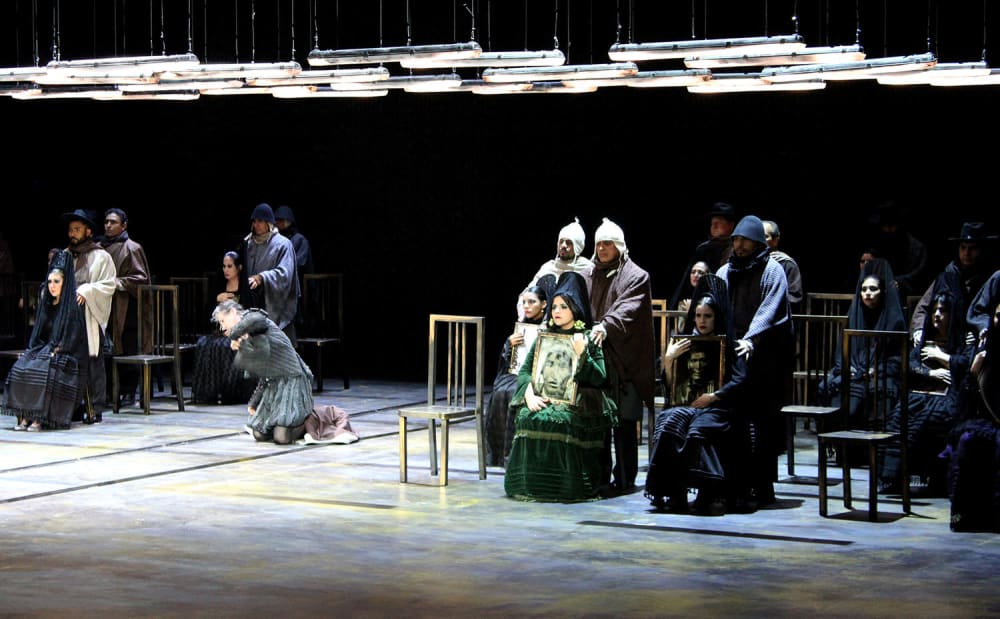 Giuseppe Verdi's Alzira premièred in 1845 in Naples and hasn't been seen much since. Verdi thought the opera was proprio brutto, really bad. The libretto is by Salvatore Cammerano and based on Alzire, ou Les Americains by Voltaire.
Many years ago, I saw a production by University College London and thought it could work with the right singers and a big spectacular production.
This production, directed by Jean-Pierre Gamarra and conducted by Oliver Diaz, is a co-production between Teatro Colon, the major opera house in Buenos Aires, and Gran Teatro Nacional De Peru in Lima. It was performed in 2018.
The story is set in the late 16h century in Peru. It's not well staged, it's awkwardly designed and poorly acted; but Verdi completists, like myself, will still be grateful for this opportunity to see the opera online.
Alzira, a Peruvian girl, thinks Zamaro, the Peruvian tribal chief she loved, has died in battle. She is telling us at great length how she dreams about him all the time, when in he walks. Flabbergasted, she thinks he is a ghost; but a duet soon persuades her he is for real. Their duet is one of the high spots.
Jaquelina Livieri as Alzira waves her arms about so much she becomes a parody of an opera singer waving her arms about. Juan Antonio De Dompablo as Zamaro makes no attempt to look like an exotic and charismatic Peruvian tribal chief.
Gusmano (Jorge Tello) the Spanish Governor of Peru, who also loves Alzira, immediately orders Zamaro's arrest and execution. Alzira begging him not to kill Zamaro is another high spot. Gusmano tells her she can save his life by marrying him (Gusmano). She reluctantly agrees. The ensembles which follow make for an exciting climax to act 1.
Jorge Tello, especially when he is wearing a cheap crown and his chest is bare and his trousers are held up by braces, looks like Alfred Jarry's King Ubu. Zamaro escapes from prison and shoots him dead at the wedding. Gusmano, in a totally unbelievable, ridiculous change of character, instantly forgives him and blesses their marriage.
Now, let me see, who was it who said all is for the best in the best of all possible worlds?
Reviewer: Robert Tanitch