Amadeus
Peter Shaffer
Derby Playhouse
(2004)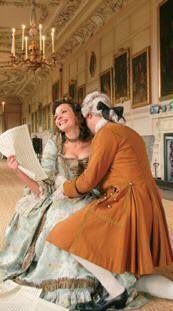 Wolfgang Amadeus Mozart is an enigma. Although experts have studied every note he wrote, the man behind the music remains a mystery. What we know of him is contained in the letters he left. He comes over as foulmouthed and puerile. But not everyone believes the image. Margaret Thatcher once remarked: "He couldn't have been like that."
Peter Shaffer's award-winning play presents Mozart as a genius who failed in his lifetime to get the recognition he craved. That was largely due to the intervention of the court composer Antonio Salieri. His confidence and religious dedication were shaken when he met Mozart.
Salieri was furious that this upstart could produce such beautiful music and recognised that Mozart had a greater, possibly God-given talent. Salieri refused to be upstaged.
The conventional Salieri, the "most successful musician in a country of musicians", was so determined his work would live on after Mozart's that he hatched a plot to poison the idiosyncratic youngster. Whether the Italian actually contributed to Mozart's demise - he died from kidney failure - is another conundrum which Shaffer conveniently leaves unresolved.
Derby Playhouse's new Behind the Legend season, which delves into characters who shaped the lives of legendary figures, hits the right note with Stephen Edwards' classy production of Amadeus.
Edwards, who directed Julian Forsyth in Sweeney Todd earlier this year, has brought him back as Salieri. It's a masterful move because Forsyth gives a superb performance as the less-talented, jealous, mean, manipulative man of influence who is racked with guilt about whether he was responsible for his rival's death.
Paul Ewing, an athletic success as Puck in A Midsummer Night's Dream at the Playhouse last season, nearly pulls it off as a swaggering, immodest, mickey-taking, giggly Mozart. He might have shown a greater sense of exasperation at his failure to get the recognition his genius deserved; and he might have been more incapacitated as his illness took hold.
Katherine Manners is delightful as Mozart's wife Constanze Weber, who refuses to let her common background make her feel inferior; Maxine Fone and Philippa Waller are almost ethereal as the venticellos who help to move on the action; and the rest of the cast give strong support.
Video tends to be used in many Playhouse productions these days. It's never been as effective as it is here. Kit Lane's controlled, unobtrusive projection adds grandeur to the court of Emperor Joseph II and complements Rosie Alabaster's imposing set.
However, the second act tends to drag, particularly towards the end. And the other criticism of Edwards' production is that you hear so little music.
Perhaps we didn't really want to hear an extract from Salieri's opera The Stolen Bucket. But all we get is a snippet from his march welcoming Mozart to the court which the prodigy livens up and includes in The Marriage of Figaro. We don't hear a great deal of Mozart's unmistakeable work either. It would be useful if the audience could make up their own minds whether Salieri justifiably became known in 1785 as "the greatest composer" whose operas "were played everywhere".
On the whole, though, Amadeus is a quality production which just about strikes the right chord.
"Amadeus" continues until September 25th
Reviewer: Steve Orme