Amajuba - Like Doves We Rise
Yael Farber
The Farber Foundry
Criterion Theatre
(2005)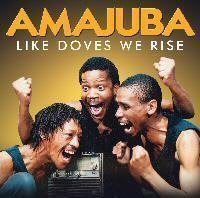 This musical play begins and ends with water. Water to cleanse the body. Water to wash away the past.
The opening scene shows the five cast members standing in old metal basins. They are trying to wash themselves, but it's a difficult task. The basins are too small. Throughout the play, water is a metaphor for new cleanliness that South Africa has experienced since the end of Apartheid. The survivors of the Apartheid years have had to reclaim their lives and start again. They were the lost generation.
Each of the actors tells a story based on his or her own childhood. Though often harrowing, they are sadly typical of what happened in the divided country and are representative of the many millions of stories that will never be told.
Each focuses on a different horror: Bongeka Mpongwana tells of near starvation in the Transkei; Jabulile Tshabalala portrays a violent attack at the hands of Soweto gang members; Tshallo Chokwe shows us a 15 year old boy who thought he was joining a dance club only to find it was a preparation for front line fighting. The stories become progressively more violent culminating in one of the infamous 'necklace' burnings which was meted out to informers.
It sounds like a heavy evening of doom and gloom, but the sheer energy and commitment of the cast lift the play out of any sense of self-pity. The stories are told in a positive, often humorous way. The whole experiment is designed to help the storytellers reclaim their past and move on. Towards the end, one of the actors shovels sand all over the stage, symbolising the fact that they are attempting to give the past a decent burial.
There are lots of demands on the cast, both emotional and physical. Yael Farber's direction is extremely fluid and she sets a frenetic pace for them. The actors are constantly on the move, gliding from one story to the next. The songs are unaccompanied, sung in a mixture of Setswana and Afrikaans, and underpin the emotion of the piece. Good use is made of the sparse props that are available. The metal basins are by turn used as tables, a place to hide under, and walls that isolate children from their neighbours. Tim Boyd's lighting is particularly effective during the violent scenes where the long shadows behind the cast suggest the menace of the perpetrators who are following them.
The play ends with the message that none of the characters can move on until they have looked back. We're left with the idea that that's what they hoped to achieve through doing the play. Perhaps the lost generation has found itself. A moving and inventive evening of theatre, made all the more engaging by the fact that it's based on real life.
Amajuba first came to England in 2003 and toured extensively throughout the country, winning the Angel Herald award at the 2004 Edinburgh Festival.
"Amajuba" runs until 28th May
Reviewer: Bronagh Taggart