Amaluna: Cirque du Soleil

Big Top, Trafford Centre, Manchester
–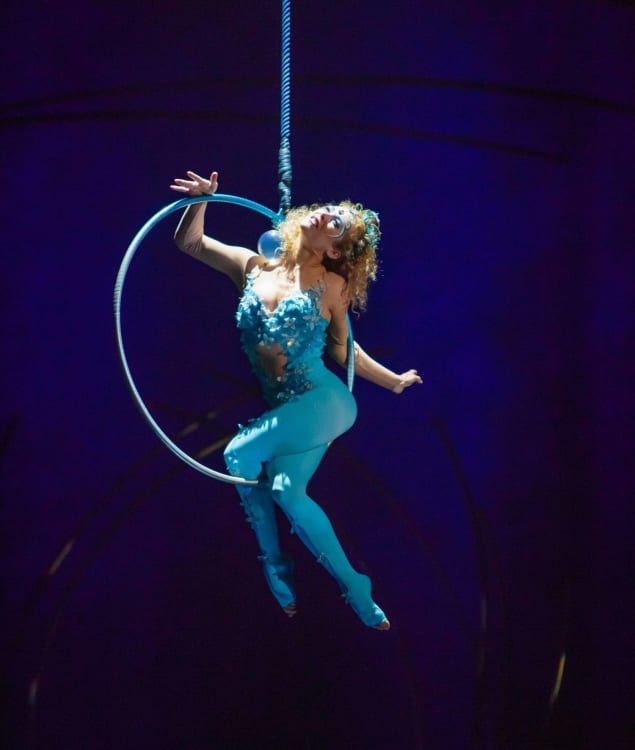 Just when you think you've seen it all—the circus comes back to town.
Not just any circus though, but the international entertainment spectacular that resuscitated the artform, rekindled all our memories of childhood wonderment, and instilled them in a new generation.
So it's not just the children in the audience who stare in wide-eyed fascination at all the delights of Cirque du Soleil's latest show, because anyone who blinks risks missing another moment of breath-taking circus skill.
Amaluna may be wrapped around a faintly Shakespearean fable but director Diane Paulus never lets it obscure what is essentially a feast of entertainment for all the senses. Music, costume, dance, comedy, strength, gymnastics and feats of immense courage are always Cirque's trademarks but in this show they blend with moments of apparent theatrical simplicity to create awesome spectacle.
The dancing silks, held aloft by fans—and which open and close the show—achieve a mesmerising, almost human form of movement, while a 'pick up sticks' balancing act created by slow and studied Oriental skill proves that sometime the old tricks are still the best.
Similarly the clowning couple that do much more than distract from scene-shifting interludes, demonstrate that slapstick, and occasionally bawdy comedy, enjoys its own international language.
In any Olympic year, our senses and appreciation of gymnastic skills are bound to be heightened but the talents on show here, and predominantly female at that, push at the already dangerous margins.
High-wire acts are higher, acrobats are faster, balancing skills tumble into a shallow water-filled pool, and a reptilian character sheds his skin to become a slippery juggler.
Costume styles range from steam punk to Eastern influences, and the whole thing is backed by insistent drums and a brace of female rock guitarists.
There simply is nothing else quite like it...
Reviewer: David Upton