Amédée (Or How To Get Rid Of It)
Eugene Ionesco freely adapted by Sean Foley
Birmingham Repertory Theatre Company
The Studio, Birmingham REP
–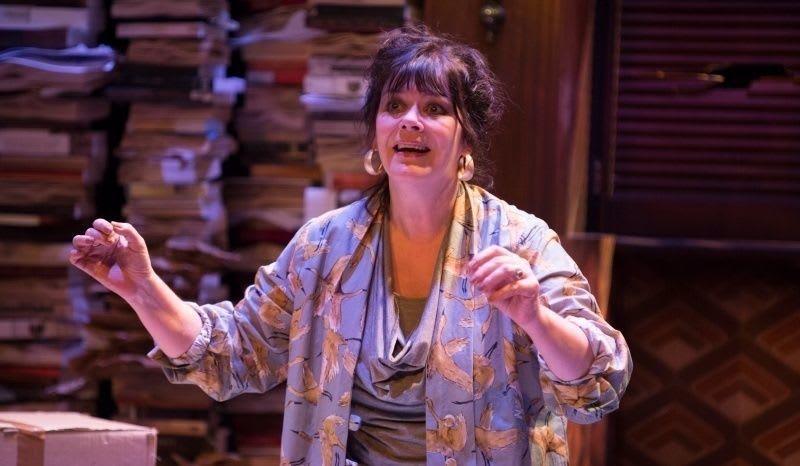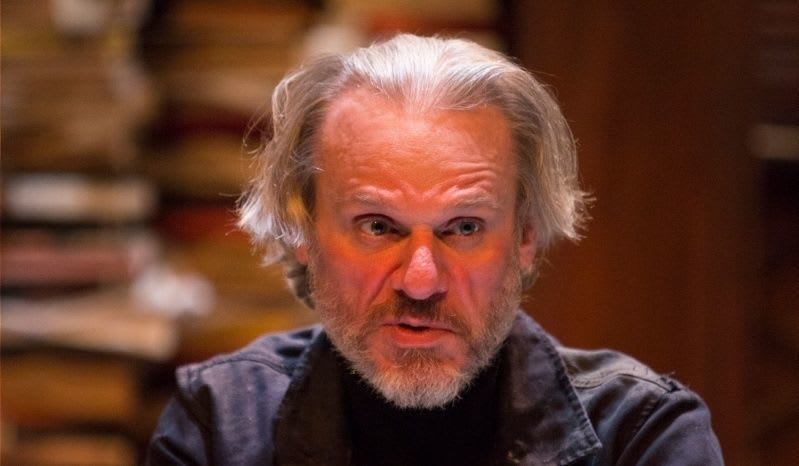 When a writer and director describes a play as a "brilliant but curiously overlooked comedy", you know it's not going to be to everyone's enjoyment. Sean Foley's adaptation of the third of Ionesco's full-length absurdist comedies is a clever, stimulating production but it leaves an after-taste like Marmite—some people will swallow it wholeheartedly, others will wonder what the fuss is about.
Amédée (Or How To Get Rid Of It) appealed to Foley because of its "hilariously surreal and resonant central image", the growing body of a dead man. How absurd is that?
It dominates the lives of frustrated playwright Amédée, trying to finish the play he started 15 years ago, and his wife Madeleine who has to work to ensure they can keep paying the rent on their squalid apartment.
Let's concentrate on the positives: Cradley Heath actress Josie Lawrence, in her first stage role for six years, is superb as Madeleine, desperately attempting to get her husband to complete his play as well as get rid of the body as their marriage falls apart.
She slips effortlessly from concerned housewife into officious telephone operator, vetting callers who are trying to get through to the president of the republic. Absurdist indeed.
Trevor Fox is just as impressive as Amédée who has hardly written a word since the body arrived in their bedroom and cannot remember whether he was responsible for the death.
Fox brings out the character's helplessness and procrastination as the situation becomes increasingly threatening to their welfare.
Birmingham REP artistic director Roxana Silbert directs with a steady hand while Ti Green's set is glorious. Piles of books, two washing machines, a cooker, fridge, mattress and grandfather clock take up valuable space in Amédée and Madeleine's apartment.
During the interval, the audience are asked to leave the auditorium while the set is dressed, although it hardly looks much different in the second half. Even more absurdity.
Towards the end the set revolves to reveal a street scene as Amédée finally tries to get rid of the body.
Craig Denston produces a marvellous, 15ft-long body with huge hands and feet that gradually takes over the stage. It's light enough for Amédée and Madeleine to manoeuvre and heave out of a window.
Theatre should make audiences think and Amédée certainly does that. I heard people discussing it during the interval and I suspect debates went on long into the night.
So what does the growing body signify? It can be viewed as a tricky problem that someone doesn't want to face; the longer the person puts it off the more difficult it can be to resolve.
On a political level, the body might be likened to the EU, a dead organisation that is still towering over people's lives even though it is extinct. I'm sure that for every audience member there will be a different interpretation.
But even though Sean Foley has written such gems as The Play What I Wrote, I found little of the comedy to my liking. The main characters may be tragic clowns but for me it's absurd that there aren't more laugh-out-loud moments in Amédée. I'll remember it for its ingenuity and thought-provoking capability rather than for its comedy.
Reviewer: Steve Orme