Amélie
Daniel Messé, Nathan Tysen and Craig Lucas
Watermill Theatre with Hartshorn–Hook Productions, Selladoor Worldwide and Broadway Asia
New Victoria Theatre, Woking
–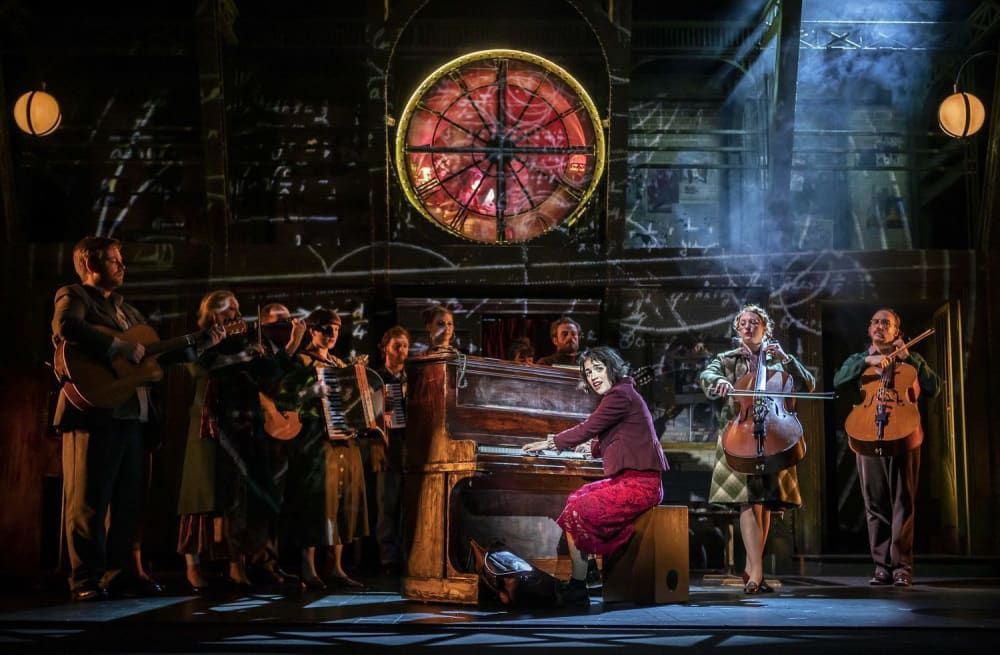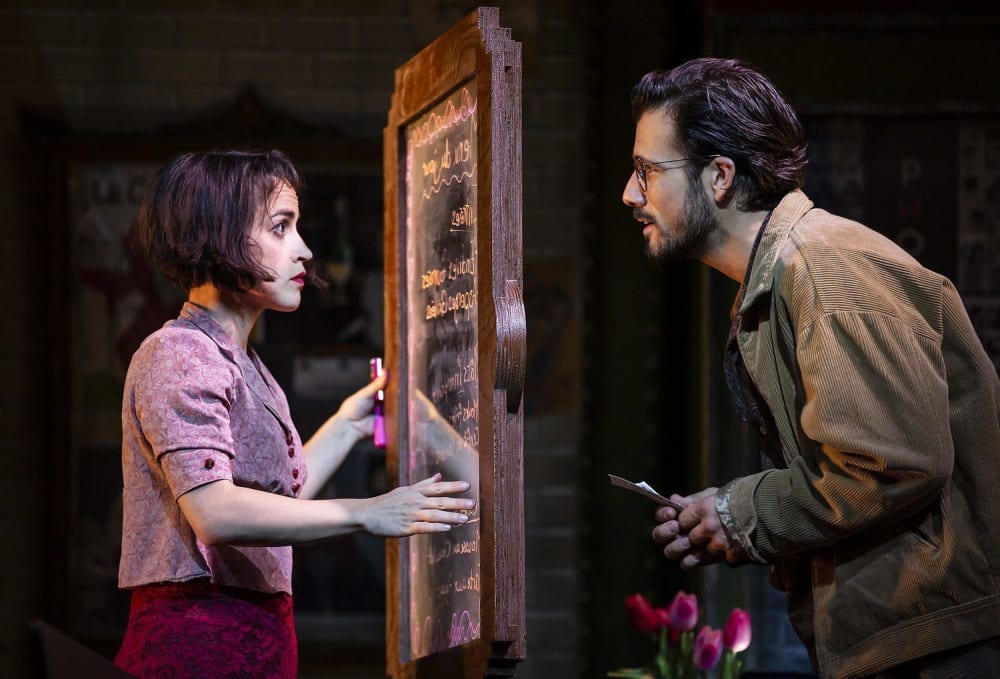 A collection of coat whirling, frenzied bowing, instrument twirling actor musicans fill the stage. They construct the world of Amélie. All sing, some animate puppets and most importantly they play constantly.
This is a slickly choreographed show. The cast physically embody the different locations: swaying on the metro, filling the space to create the crowded street, or drinking coffee in the café.
Elliot Griggs's atmospheric lighting and Madeline Girling's two-storey set is simple but visually arresting and very French. A green Metro station stretches across the back with a large illuminated clock set in the centre. This swings open to reveal Amélie's porthole in the sky and below her is a curtained photo-booth. Otherwise, the set consists of two pianos which are constantly on the move. They alternate between being played, clambered upon or even opening up to become stall fronts.
Michael Fentiman directs this tale of Amélie's lonely existence and, despite the energetic cast and choreography, he manages to convey this with a tender, gentle touch. Audrey Brisson (Amélie) sparkles as the naïve but strong-willed Amelie and leads a tremendously talented cast.
Amélie's early childhood is displayed through clever puppetry (the cast really can do it all) showing the lack of parental affection which leads to her inability to form human connections as an adult. This is a love story though between Amélie, a shy, introverted dreamer, and Nino, who is obsessed with photo-booths.
This doesn't sound like the traditional stuff which musicals are made of, but this is not a traditional musical. There are no kick lines or lead character 'I want' songs. Instead, you have an impressive jumble of musicians who can flick between roles with the action moving seamlessly through each location. All of this is sprinkled with a touch of magical realism and a tongue-in-cheek humour which stops the subject matter getting too heavy.
The story starts off at a great pace, but by the interval there has been a lot of setting the scene with little story development. Thankfully in act two, the action comes to life and Amélie starts to make changes to her life and to the lives of those around her.
Daniel Messé's music is written in an acoustic pop and folk style—think early Mumford and Sons with a great dollop of French influence. It's a great score because it has such a unique voice and, combined with Messé and Nathan Tysen's fast-moving, witty lyrics, the story springs to life. The mix of driving and danceable rhythms and fantastically hooky choruses is a great success, but unfortunately Messé employs a similar orchestration and texture throughout so the songs all become very similar.
There is a definite lack of momentum heading towards the interval, but Amélie is not an easy film to turn into a musical. It is a great credit that the production team has managed to turn a convoluted story into something cohesive with just the right level of whimsy, without become too cute.
Reviewer: Louise Lewis