American Lulu
Olga Neuwirth interpreting Alan Berg's opera
The Opera Group
Young Vic
–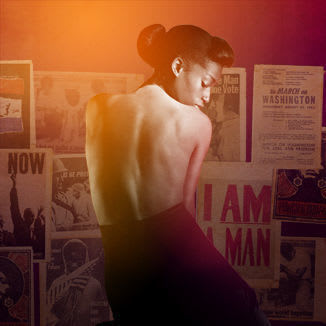 Berg's unfinished Lulu has always posed problems in staging. Olga Neuwirth takes a radical approach, re-instumenting, rewriting and changing the story.
Neuwirth's Lulu supposedly tells the tale from her point of view, as a freedom-fighting black women in the midst of the civil rights struggles in America 1950-70s.
Commissioned by The Opera Group and Komische Oper Berlin, it was first brought to life in Berlin directed by Russian theatre and film director Kirill Serebrennikov. Panned by the critics, The Opera Group's founding artistic director, John Fulljames, has re-staged the work for a visit to Edinburgh and the Young Vic.
Designer Magda Willi sets the action inside a string curtain, emphasizing the voyeuristic feel of watching Lulu's life. The regular projections of camera rolls and city backdrops running across the curtains fill in the changing location.
Neuwirth recolours acts one and two for a smaller, jazzier ensemble. This helps the introduction of Eleanor (Jacqui Dankworth), replacing Geschwitz, a jazz singer who falls head over heels in love with Lulu. It's interesting to have the miked jazz timbre surrounded by operatic voices, but unfortunately Dankworth is underwhelming.
There are still plenty of men in this interpretation. Lulu (Angel Blue) is surrounded by a newly-named group of friends, her second husband the photographer (Paul Curievici) is passionately adoring, and well sung and characterized.
Marrying up with Dr Bloom (Donald Maxwell, who shouts his way through the role and chews on the American accent), she also gains a group of admirers: Athelete American footballer (Simon Wilding), Dr Bloom's son (Johnathan Stoughton), Eleanor and her old friend Clarence (Robert Winslade Andserson). Threatened by the hangers-on, Bloom instructs her to kill herself, but instead she shoots him.
A stint in prison follows before an entirely re-written third act where Lulu becomes a prostitute, hired out by pimp Clarence before an anticlimactic death. Throughout, Berg's score is interspersed with Martin Luther King speeches and poems by June Jordan. This referance to the black freedom struggle is the only real nod to Lulu as a freedom fighter and would have been lost in translation without the clear programme notes.
It fails to show the story from Lulu's perspective; we have no greater insight to her motives. Despite Fulljames's best efforts, Lulu comes across as a narcissist and unlikeable in this re-imagined tale, missing the tender moments for us to understand her. Despite approximate diction, Angel Blue's vocal ability is magnificent, a freedom in her upper register that makes light work of this demanding score. Fulljames makes cariacatures of the men, which works particularly well for Winslade Anderson (Clarence) who injects slime and seediness into every step, and his lustful gaze on Lulu mentally undresses her.
Neuwirth's re-writing removes so much that is good from the original, and instead of solving the pitfalls of Berg's tale introduces so many more. Gerry Cornelius's conducting is lacklustre, but the London Sinfonietta gamely works through the opera. The re-written score introduces interesting colours, but the reduced orchestra struggles to do justice to the surviving original sections.
Many have perceived it as a travesty to cut up a Berg's musically genius score, but this is not American Lulu's main problem—the scrambled dramatic rewrite wins that award. Perhaps lucky number three is needed; a third director may be able to find a way to negotiate Neuwirth's big ideas of gender and racial revolution through this chopped up work.
Reviewer: Louise Lewis