Amsterdam
Maya Arad Yasur
Actors Touring Company/Orange Tree Theatre
Orange Tree Theatre
From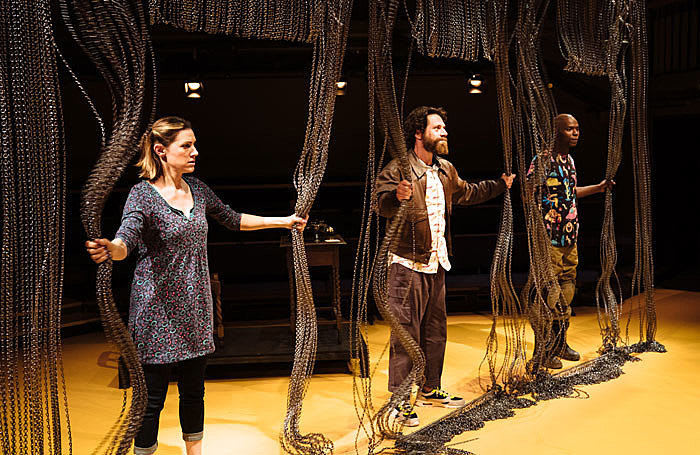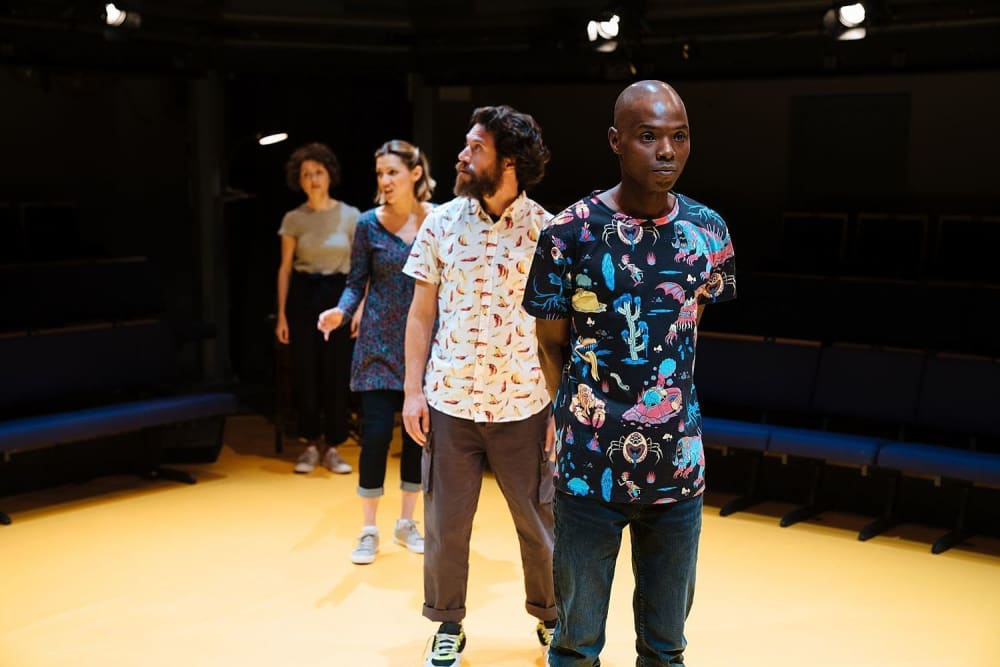 This 2018 play by Israeli playwright Maya Arad Yasur was due to go on tour after performances at The Orange Tree Theatre in London. Of course that tour is now suspended, but you can catch this production for free online—and it's certainly an interesting experience.
Performed in-the-round by four actors taking on a multitude of roles, this is written in the style of a freeform storytelling exercise. The actors give the impression they are improvising the plot-line from a few scraps of information as they tell the story of a pregnant Israeli violinist living in an Amsterdam apartment in the present day who receives a gas bill pushed under her door dating back to the 1940s.
The story follows both her character and those who lived in the apartment during Nazi occupation as she (or the actors) tries to solve the puzzle.
There are few props and the dialogue is very fast-moving with the actors almost frenetically at times diving from one side of the stage to the other as the story unfolds of hidden Jews, resistance fighters, betrayal, forbidden love and tragic separation.
At times, it's a little hard to follow where the timeline has gone. And the storytelling is often interrupted by explanations of Jewish or Dutch words, asides between the actors themselves as they argue where the story should go next or deliberate and highlighted pauses when certain subjects are touched upon.
The actors—Daniel Abelson, Fiston Barek, Michal Horowicz and Hara Yannas—give a lot of energy to the piece and move the pace along, but with very little let-up in pace, it's sometimes hard to feel the emotion in what is in effect a very dark and multilayered story full of gravitas.
In the second half, the stage is separated by a steel net curtain which adds to the possibilities of scene placing and there is a little more costume used to differentiate characters.
And be warned: there are also a number of excursions into crudeness that seem to come out of nowhere like a slap in the face and add a layer of shock that serves to link the treatment of Jews past and present.
This is a powerful piece, tightly directed by Matthew Xia, but it is at times frustrating not being able to empathise with characters whose lives were tragic yet of whom we get such fleeting glimpses.
But for all that, this is a contemporary play that has a lot to say about modern Israeli identity, immigration into Europe and who actually foots the bill for the past atrocities of other countries.
Worth a watch.
Reviewer: Suzanne Hawkes