Amsterdam
Maya Arad Yasur, translated by Eran Edry
Theatre Royal Plymouth, Actors Touring Company and Orange Tree Theatre
The Drum, Theatre Royal Plymouth
–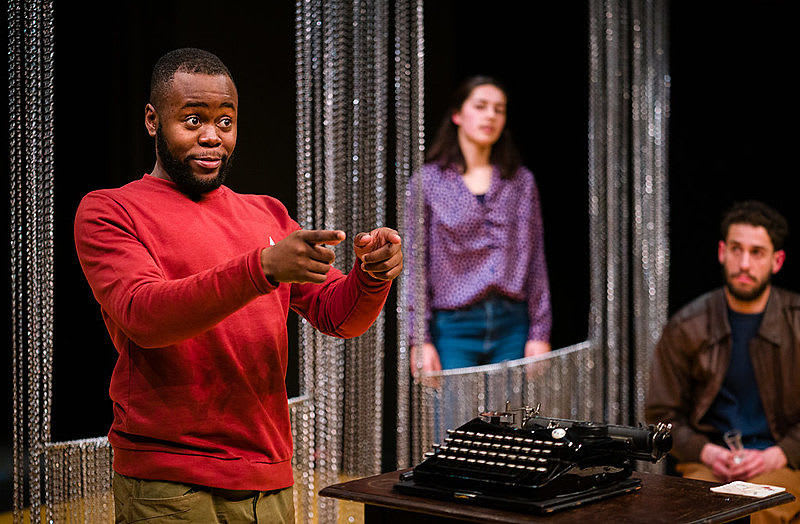 Maya Arad Yasur's award-winning four-hander takes "a bite out of a juicy Amsterdam" as past and present clash and anti-Semitism is again on the rise.
The plot is simple: a day inside the non-EU haired head of heavily pregnant, successful Jewish composer and violinist who receives an astronomical bill for gas used in the trendy canalside apartment in 1944. Yet she has no gas and no way of making an omelette.
Populated by old men smelling of cigars and cheese, bald emojiesque Hans, enabling barmen and hyper-feminist, Bosnian fugitive-trashing Victoria clad in fishnets and short shorts (or billowing ball gown), footsteps past and present echo through the city's streets while nooks and crannies surrender secrets.
Or at least that is the story eventually decided upon.
Tag team storytelling writes and rewrites the now and then: tales of genocide (pause) and betrayal, of supermarket queue and gynaecologist xenophobia in a fresh vehicle for a difficult subject as the province of the unpaid bill leads through misty memories of stolen bikes, deadly philandering lawyering, an exploration of belonging and an acute sense of prejudice.
Strands knotted and intertwined of outcasts, 551 dead children in Gaza, generational guilt and heritage, as ideas are bounced between the four as they bicker over whether the postman delivers to a first floor flat or anyone knocks on doors in Amsterdam and create the backstory. Clever.
Matthew Xia directs with sparsity foremost: Naomi Kuyck-Cohen's set is little more than a desk, typewriter and glass of Jenever, a bell to summon the players to the mike with tedious monotony to explain unknown phrases and an inexplicably drearily constructed chainmail curtaining landed and hoisted for the second act.
A tale worth telling but how to make genocide—75% of the Netherlands' Jews were murdered by the Nazis—and the occupation entertaining? An interesting device and performers Anyebe Godwin, Michal Horowicz, Anya Jaya and Uri Levy are excellent but, without their playful exuberance, it all might have grated much earlier.
Reviewer: Karen Bussell