Amsterdam
Chanje Kunda
Black Gold Arts festival
Z-arts, Manchester
–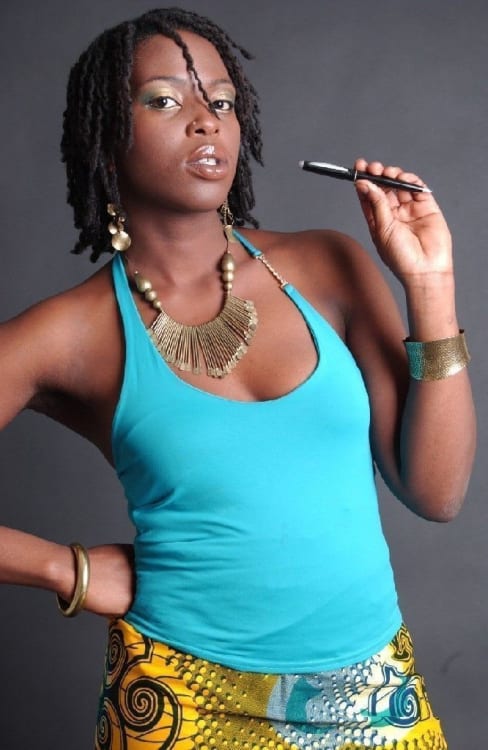 We enter to a striking tableau. A young woman sits on a chair with a tea tray, complete with cup, saucer, pot, milk jug, sugar bowl and teaspoon, hung around her neck. In one hand, she holds an angle-poise lamp while, on her head, she wears a bright red colander, fully masking her face. Striking, but as the show progresses, its precise relevance never becomes clear.
Amsterdam is written and performed by Chanje Kunda. One of a series of autobiographical pieces at this year's Black Gold Arts festival at Z-arts, the show illustrates both the strengths and the difficulties of bringing autobiography to the stage.
As a performer, Kunda has stage presence, but her delivery spends too much time in the same register and at the same leisurely pace to serve the story she has to tell. This is a pity, because, contained within her monologue, there is an important story to be told.
One of the challenges for a writer is to create a very particular, unique tale, which nevertheless communicates to the audience (or reader) some universal insight; something which speaks not only for you (the writer) but to them (the audience). Some writing is too general, lacking the specific detail to bring it to life. With autobiographical writing, however, the danger is always of sliding too far towards the other extreme. Without a sturdy bridge, linking your unique tale to some broader aspect of human experience, you run the risk of simply cornering a group of people and "forcing" them to listen to your life story.
To ask an autobiographical writer "what is your story about?" might seem tantamount to asking her to tell you what her life is about. Yet, this is precisely the question the artist working with autobiographical material must ask of herself, for it is this which will guide the transformation of a lengthy anecdote into a work of art.
Somewhere, as yet buried, within Amsterdam is a truly important story for the early 21st century. As marriage (in the West, at least) becomes increasingly less permanent, millions of women (and it is likely to be women, in the main) will find themselves fretting over these two questions whenever they approach a new relationship with a man: "How will he be with my children? How will my children be with him?"
"The love of a child is not enough for me," Kunda tells us at one point. A brave and important confession, that may be echoed by mothers across the world. But the tensions signalled by this are only touched upon rather than dissected and confronted. In love and in Amsterdam, a single phone call seems enough to ease her mind about her son, whilst any potential conflict between child and lover is quickly resolved when the man lets the boy win at Call of Duty. I daresay life can sometimes be that blessedly simple; drama can't.
Twice, the narrative is broadened as Chanje is criticised by her mother and challenged by her friend. These episodes of what we might call Mummy Megaphone and Minnie Megaphone are both funny and revealing. As elsewhere, though, the possible conflicts and questions raised by these two "characters" are not explored, so the episodes are little more than amusing diversions.
The entire monologue is in rhyme. It is incredibly difficult to write a genuinely dramatic monologue in rhyme, and the sense here is that concern for the rhyme has outweighed care for the dramatic rhythm of the piece.
The raked set is useful, since much of the performance is delivered sitting or even lying down but, while the windows cut into the backboard add visual variety, as with the opening tableau, the contribution to the meaning of the production is difficult to decipher.
On one level, this is the story of a woman having her heart broken in two very different ways by two very different males. Kunda's poem in tribute to the younger male—the one who breaks her heart through sheer joy—is lovely and affecting. Here, at least, we hear the personal and comprehend the universal.
Reviewer: Martin Thomasson