An Actor's Guide to Getting Work (fifth edition)
Simon Dunmore
Methuen Drama
Released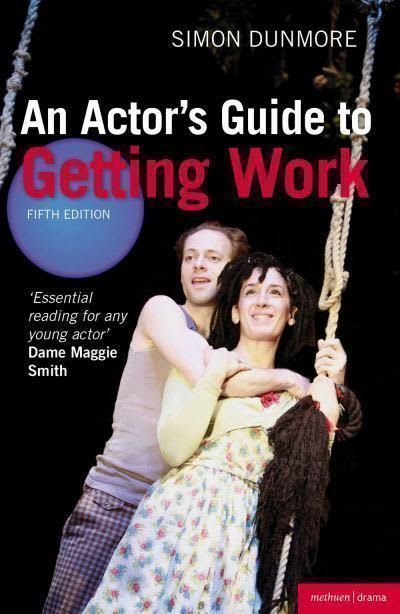 I don't know whether Simon Dunmore envisaged this book as a life's work when the first edition came out in 1991, but a lot can change in twenty years and so this standard, essential book about the nuts and bolts of living life as an actor has now been updated and re-released for this fifth edition.
There is no denying the attention to the finer details of every aspect of an actor's life that this book covers in its 244 pages, beginning with advice to a young person about whether to pursue this notoriously unstable career through auditioning for and working your way through drama school, presenting and promoting yourself professionally, pursuing work, the audition process, various forms of work for an actor including unpaid and non-acting work and general survival tips for actors.
There is evidence of a text that has been tinkered with a lot, as there are some clunky bits and repetitions (on a couple of occasions the same anecdote appears twice within a few pages) and points where Dunmore either labours a point or gets to a level of details that some may consider patronising—is a whole paragraph about whether to cross your legs during an interview really justified? Some of the technical information about video and audio recordings and web sites and such appears to be from a layman who has come across these things rather than from an expert, but there is sufficient information about them for most actors to gain the insight they need—until the technology moves on.
But this is a book so loaded with information that it is easy to toss aside the simplistic and the personally irrelevant to get at the real jewels that you'd never thought of or that you couldn't otherwise know other than through the embarrassment of hindsight. Dunmore has sat on the other side of the audition table for many years as a director and seen actors make all of the mistakes he warns about. To be aware of them and to be prepared for what you may otherwise have not been expecting is bound to give you a huge advantage in the competitive acting jobs market.
The only area of an actors life that he doesn't cover, quite sensibly, is acting itself, either on stage or set or in the rehearsal room, apart from some notes on etiquette such as turning up on time to rehearsals and treating non-acting members of the company from the technicians to the box office staff to the cleaners with respect. This is a manual on how to be an actor as distinct from one on how to act.
It's hard to believe that much of this still isn't taught in drama schools as information such as this is essential to survival as an actor, however great one may be on stage. But for anyone starting out in the business, considering a career in acting or wondering why their career isn't progressing as well as they thought it should, this is an essential book to have, perhaps paired with Simon Callow's Being An Actor to give the actor's side of the story.
Reviewer: David Chadderton