An Anatomie in Four Quarters

Clod Ensemble
The Lowry
–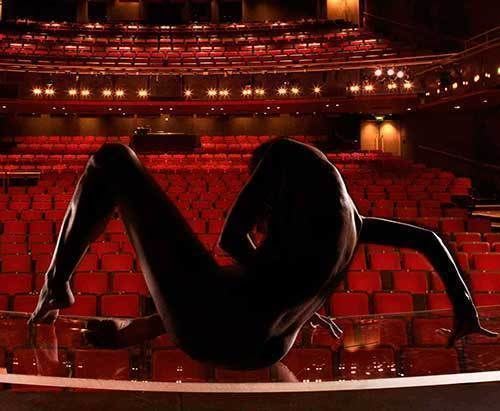 Clod Ensemble's An Anatomie in Four Quarters opens Week 53 at The Lowry, a festival of theatre "for the compulsively curious" that focusses on unconventional spaces.
Anatomie certainly fits this brief as just 200 audience members are taken into the Lyric Theatre for a promenade performance that blends dance, video projection, poetry, audio clips and live music from Manchester Camerata.
This production is a dissection of a conventional performance, with the audience moving through the auditorium and viewing the dancers from several angles. Video clips of animated x-rays are projected onto the backdrop, focussing on joint movement in the arms and feet, while the ensemble dance stripped-back pastiches of classical ballet that focus on the relevant body part. Everything is designed to create a heightened awareness of the mechanics of movement.
The four quarters are largely distinguished by the positioning of the audience. Beginning in the upper circle, the promenade gradually moves down through the anatomy of the theatre, into the stalls and finally onto the stage itself. Contrasting musical styles—from mournful pipes and strings, to rock, to a lone soprano voice—also help to separate the sections, but choreographically they are not particularly distinct.
Anatomie in Four Quarters is an intriguing production full of novel ideas—having multiple perspectives on the action, including being able to walk on stage amongst the cast of dancers, makes for an innovative experience.
The action isn't just restricted to the stage either—a solo dancer performs a slow section of movement on top of a small platform in front of the upper circle, while a chorus line dance in harnesses on the rigging over the stage. At stalls level, a body laid out on a table as if for dissection sings a haunting solo. In an amusing final twist, the stage curtain comes down behind the dancers, leaving the audience on stage in the darkness.
It's thought-provoking and original, but the actual content of Anatomie doesn't evoke an emotional response. There's little variety in the choreography itself to create different moods—recurrent motifs appear across the four quarters, but there's also a lot of rapid walking and running across the stage that becomes slightly tedious.
It's also difficult to see how the various components cohere to make a whole body. Neither the auction house audio clips nor the poetic extracts from Vasko Popa recited by actors seated in the upper circle, are particularly compatible with the dance content.
Nonetheless, Clod Ensemble's work is a memorable experience that offers a new and atmospheric perspective on live theatre and starts Week 53 in style.
Reviewer: Georgina Wells