An Appointment With The Wicker Man
Greg Hemphill and Donald McLeary
National Theatre Of Scotland
Theatre Royal, Glasgow
–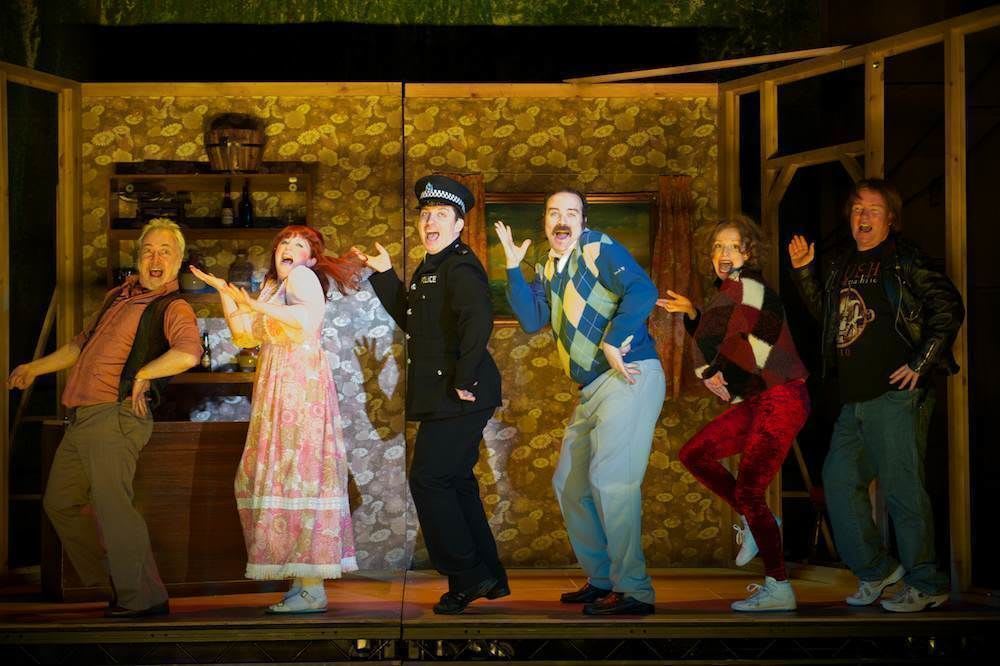 Robin Hardy should be chuffed to bits at this glorious homage to his classic 70s horror film. Rather than a simple stage version of the film, the play finds amateur dramatic group the Loch Parry Players putting the finishing touches to a rather unlucky production of The Wicker Man. This set-up and the presence of two Chewin' the Fat stalwarts make for a wickedly funny show.
As in Alan Ayckbourn's A Chorus Of Disapproval, where an am dram group fall out putting on The Beggar's Opera, the action offstage mimics the action onstage, but here as well as poking fun at the unprofessional actors the play also conveys the thrill and menace of the film. Rory Mulligan (Sean Biggerstaff) is the professional actor from Glasgow hired in to replace the Loch Parry Players actor playing Sergeant Howie who has mysteriously disappeared.
Sergeant Howie is similarly brought in from outside due to a disappearance in a tight-knit local community. If you haven't seen the film then you will still enjoy the play but you will miss some of the jokes. Incidentally if you haven't seen the film, you should.
Biggerstaff creates a very cool Rory whose arrival immediately emphasizes the rough nature of the amateur actors and their exuberant but shambolic production. As with the film, the central theme is of opposition between the urban outsider and the rural community. In the film, this is manifest in terms of religion; here it is in terms of acting. Christianity is, in effect, replaced with professional acting.
The show not only manages to cover all the important scenes of the film, it goes so far as to include scenes that were cut in the original botched release of the film. Alongside celebrating the film, it also is a great celebration of coarse acting: Finlay Fothergill (Greg Hemphill) as Lord Summerisle makes no attempt to remember his lines even though the show is going up in a day's time among numerous cringeworthy but excellent moments.
Fortunately there is no coarse singing of the beautiful score by the late Paul Giovanni and the singing is perhaps an improvement on the original as these actors, unlike Britt Ekland, don't need to be dubbed. The musical numbers are exceptionally entertaining and you really want to go and join the actors as they seem to be having so much fun on stage.
I never thought a play could do The Wicker Man justice, but this succeeds and then some. It is theatre on fire.
Reviewer: Seth Ewin