An Evening with an Immigrant
Inua Ellams
Fuel with Black Theatre Live
Alphabetti
–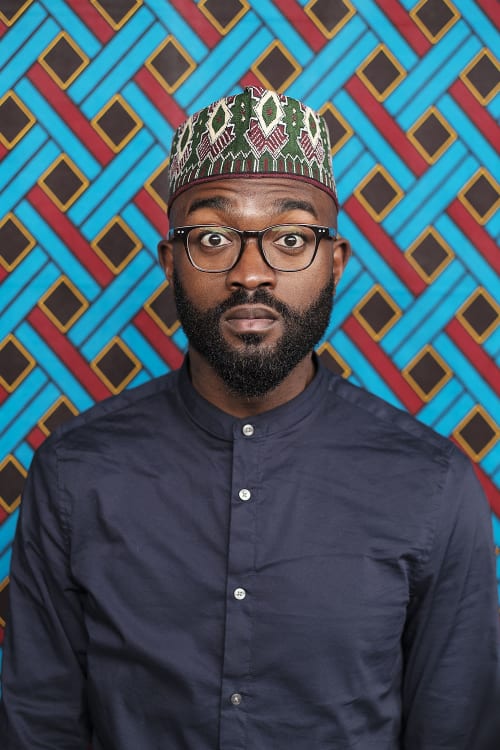 Few shows can be more prescient than this, even if strictly it's not theatre at all, more a poetry reading sprinkled with anecdotes. Yet it's filling auditoria worldwide in a field of the arts (poetry) where only the famous or the outrageous can usually hope to attract bigger audiences than would fill a couple of telephone boxes (remember telephone boxes?).
Inua Elllams was at Newcastle's tiny but splendid Alphabetti Theatre fresh from playing to full houses in Australia. He announces himself as being "from a long line of troublemakers" yet his obvious charm disarms us all, his poetry eloquently delivered, both rhythmic and declamatory.
From a mixed Muslim / Christian Nigerian family, Ellams was 12 when he left his native land for England, where the Royal Mail managed to lose all the family's official documents, including passports and birth certificates. He moved to Dublin for three years (the only black boy in his class) and is now a designer, poet and playwright in London.
Despite his work having been produced by the National Theatre, despite him being invited to meet the Queen at Buckingham Palace (where he nicked some of the printed loo roll), he still has only "discretionary leave to remain" in the UK and is forced to seek a review every two years (at £800 a shot).
When he talks about his darker moments in this country and the pressures the authorities put on immigrants such as himself, he is almost moved to tears, pausing to regain his composure. He speaks of the system's corruption, its tendency to degrade and, while the poetry itself is often effective, a highlight is Ellams's stirring and turbo-charged description of an immigration system both absurd and deeply damaging.
Ironically, despite Alphabetti being a progressive venue, this was virtually an all-white audience (theatre on Tyneside has made only limited in-roads into its relatively small ethnic communities), most of them queuing to buy the author's books at the end.
"Poetry has changed my life," he said at one stage, implicitly acknowledging that many others in a similar situation have been less fortunate. Though some of the poetry is political, much richly evokes his Nigerian childhood. Strangely, the poetry is mainly delivered from memory, whereas with the anecdotes, Ellams refers to his notes.
There's no set, no props, just a stool, a PA and bits and bobs of music from DJ Sid Mercutio which sometimes seems arbitrary. There's quite a lot of poetry (the show's nearly two hours), maybe too much, but the audience had few complaints.
In the age of Brexit brutalism and the Mad Trumpeter across the pond, Ellams is a voice of compassionate anger, one individual whose art has helped him survive a system which has eaten alive many others.
This is the final week of Alphabetti's two-year tenure in these bohemian subterranean premises, two years that despite all the odds have offered a heady mix of alternative theatre and given a lifeline to the many small NE outfits for whom the bigger commercial venues are simply impractical. Alphabetti has also commissioned several new plays itself.
The Odeon Cinema block under which the theatre is secreted is soon to be blessed(?) with redevelopment, leaving Alphabetti to find a new city centre location. Happily this soon looks like soon coming to fruition. Their iconoclasm would be sorely missed.
Reviewer: Peter Mortimer