An Evening With Krampus
Devised, designed and written by The Wheel
The Wheel
The Barbican Theatre, Plymouth
–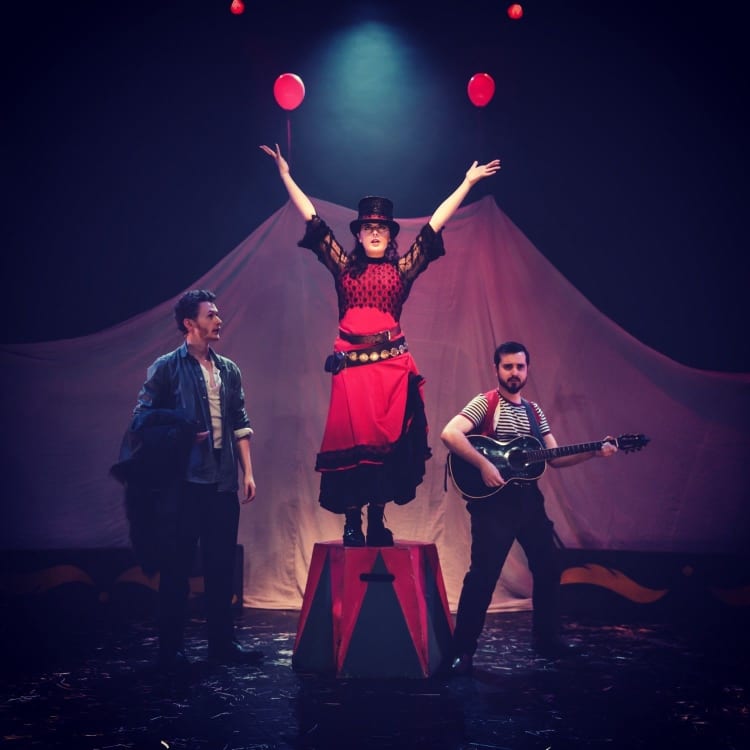 You'd better watch out, you'd better beware
You'd better not pout, I'm telling you why
Krampus is in town…
Making a list and checking it twice
Finding out who's naughty and nice…
And, apparently, 'tis the season to be jolly kidnap children.
The Barbican Theatre's innovative cabaret / song / live music extravaganza is billed as a darkly delicious festive treat. Dark indeed and, oh, so delicious.
Developed by the Barbican Theatre and Plymouth's spanking new production and actor training company The Wheel, An Evening with Krampus offers a seasonal alternative to wholesome entertainment and is definitely not for the whole family.
In Central European legend, Krampus is a glorious Lord of Misrule, punishing naughty children while his saccharine counterpart St Nicholas rewards the well-behaved with gifts.
The charismatic Chloe Carrubba is sexy and sassy—in red satin, black lace, fishnets and DMs—as the eponymous folklore figure who is majorly miffed. The centuries-old pact with the fat man has long been broken with Santa (he who breaks into houses, plays with small children, runs a Nordic tax haven sweat shop and refuses employment to those over 4'5") selling out, hijacking Christmas from the adults and curtailing the penalties meted out to the bad.
And Krampus is not happy. She's ready to right fake news and trash, thrash or lash those in her gimlet sights.
With versatile sidekicks Adam Connolly and William O'Brien, Carrubba struts about the circus ring set, stamping her feet, flashing her eyes, strumming a Spanish guitar and clacking castanets as age-old resentment is bared through rhyme and song. Well known favourites—Beatles, Queen, Oasis and more—are given a vicious or adult-only spin with a hilarious "Santa Baby" itemising the revenge Krampus would visit upon St Nick and an auditorium-rattling, full participation version of "We Will Rock You" revised to "Santa F*** You" to detail just two.
Not for the easily offended but great fun.
Woven through with the tale of the Pied Piper (re-enacted with the help of shadow puppets, suitcases, plenty of masks, and a fish tank) for no particular reason—or is there? Count your children upon returning home—there are occasional 'uh?' and 'why?' moments but I'd happily watch again.
A tremendous showcase for the impressive Carrubba, there is rumour that the concept may become a permanent Christmas antidote. I hope so.
Reviewer: Karen Bussell