An Evening With An Immigrant
Inua Ellams
Inua Ellams and Fuel
Traverse 3
–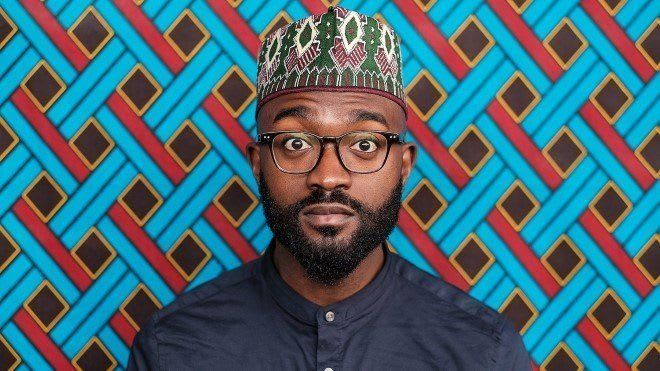 At London's Bridge Theatre in November 2020, just as the UK was about to go into another lockdown, poet and playwright Inua Ellams stood alone before a live audience with a microphone and a wheelie suitcase and told the story of his life—as he put it, to "put a face on immigration."
Ellams was born in Nigeria in 1984 to a Christian mother and a Muslim father, but when he was 12, his father started to question his faith which attracts threats against the family that became so serious that they had to flee the country. Once established in England, they were told that all of their documents had been 'lost in the post' by their solicitors, who advised moving to Dublin and starting their application again. After threats of violence from "someone calling themselves Sinn Fein" and silence from their lawyers, they moved back to London to find their solicitors' offices boarded up, so they had to apply to remain all over again.
Ellams began to write and perform poetry, had a book published and was offered a contract for his play, The 14th Tale, by Fuel, despite having been refused permission to stay. At his appeal, Nick Starr, the Chief Executive of the National Theatre, spoke about how important he was to British theatre, and he was invited to Buckingham Palace to meet the Queen. His appeal to remain succeeded, but his application for citizenship failed because, according to the Home Office, he is "a person not of good character."
All of this and more is told with much warmth and good humour, interspersed with lots of his poems, each applicable to a particular part of his story. He often laughs in anticipation for what he is about to describe, controls music that only appears under his speeches that link the poems with a tablet attached to his mic stand and finishes each poem with a shy "thank you".
The story is political in that he has been battling a government and a system that has kept him in limbo now for 25 years, but it is also a human story of a family supporting one another and surviving, whatever it takes to do so, when neighbours and the system are against them through intolerance and incompetence. He was not able to go to university as he couldn't afford the fees charged to foreign students, but through his writing he made sure his sisters were able to go to college.
This is an hour and a half of great storytelling and poetry, with a frustrating political edge, that ends far too soon.
Reviewer: David Chadderton