An Honest Gentleman
Cordelia Spence & Tim Lane
Stuff of Dreams
Christchurch Mansion, Ipswich
–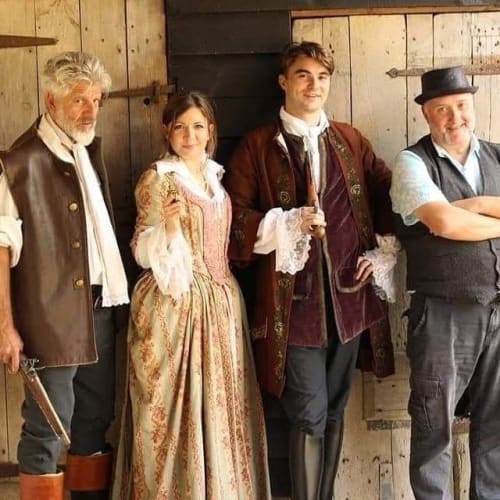 Everybody likes a good highwayman story; add to that a local(ish) twist, a bit of romance, some well crafted folk songs and the beautiful setting of Christchurch Mansion and you probably can't go far wrong.
Stuff of Dreams is a small Norfolk-based touring company trying to make a few in-roads further south into Suffolk territory. An Honest Gentleman was premièred in Cromer last year and is now being toured further afield. It is based on some very thin facts about Thomas Easter, an Aylsham-born butcher's son turned highwayman who teamed up with one Lady Temperance Fox and who was hanged at an early age for his crimes. He lived at the same time as Dick Turpin and, although there are no documents to prove the point, the play assumes them meeting and working together.
So with not much to go on, a tale is spun out of a cocky lad and his well-heeled lover who push their exploits out of Norfolk and into Epping Forest and whose encounter with Turpin—a nasty piece of work by all accounts—leads to their ultimate downfall.
Quinn Richards plays Easter with plenty of swash and buckle and a twinkle in his eye, Hayley Evenett is equally vivacious as Temperance and Geir Madland makes up the trio, playing a number of comic asides as well as Turpin himself with a snarl and a swagger. Tim Lane, who wrote the songs, is on stage as well, playing accompanying guitar and the occasional 'spare' .
The small acting space doesn't give much room for manoeuvre but the actors do their best juggling scene changes with the use of a number of canvas-covered cubes that cleverly become beds, coaches and inn tables and costume changes from a couple of rails at the back.
The story is told in a filmic scene type sequence with Evenett narrating and the story padded out by a number of musical numbers that add to the pace and move the action on.
The actors gave it their all and obviously are enjoying themselves immensely. There is humour but possibly more could have been brought out. There's nothing edgy, challenging or experimental here; there are no moral points driven home or much in the way of the historical background of the times explored. It would appeal to any age and not offend anyone but it's really a 90-minute show stretched to full-length, so some editing probably wouldn't do it any harm.
Having said that, there are some well-written sequences—I especially liked the scenes with Temperance's father and Easter with a Fop he robs and who comes back to haunt him, both parts played with good comic timing by Madland.
The cast are watchable, the costumes enhance the production and as a bit of a rollicking romp though the life of a little-known highwayman it fulfils its remit.
An entertaining evening worth catching if it comes your way.
Reviewer: Suzanne Hawkes