An Ideal Husband
Oscar Wilde
Chichester Festival Theatre
Chichester Festival Theatre
–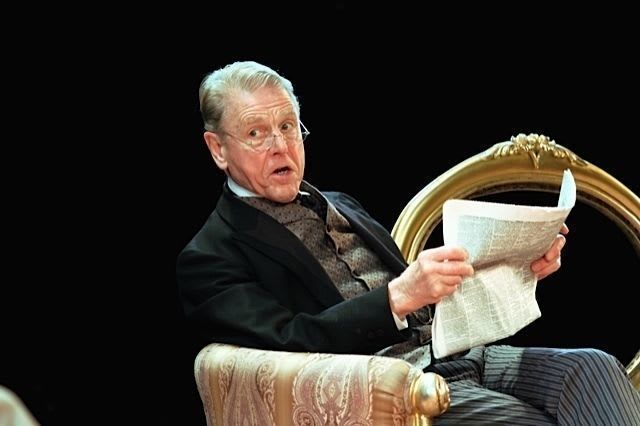 Big names and sumptuous sets stand out in this, the last drama production of the Festival summer season.
The play is set in London 1895 and concerns political corruption, blackmail, scandal-loving journalists and a side mention of the overpopulation of London, so much of the content relevant to today's world that it caused stirs of recognition from the audience.
All very serious subjects, but the plot is almost incidental as the play is written light-heartedly and is stuffed full of Wilde's rather sardonic humour with witticisms coming thick and fast in the rapid-fire dialogue.
The play begins in Sir Robert Chiltern's Grosvenor Square mansion where he is hosting a gathering. Simon Higlett has gone to town with a magnificent set, using the full depth of the stage which allows several rooms and alcoves to be visible, all awash with chandeliers, plush furnishings, exquisitely gowned women and a general air of wealth and privilege.
Sir Robert (Robert Bathurst) has risen to a position of eminence and wealth by, in his youth, receiving payment for leaking a Cabinet secret. Now, many years later, his past has come back to haunt him in the guise of a Mrs Cheveley who would be happy to ruin his Government career and reputation if he doesn't publicly support a dodgy deal in which she has invested heavily. Jemma Redgrave is the very elegant and glamorous Mrs C, although it is difficult to believe she could ever be so malicious.
If he doesn't agree, it would mean ruin and shame, but worst of all he would lose the love and respect of his devoted wife, a woman who expects her husband to be above reproach.
It is rather a slow start as the many characters are announced by the butler and, as they enter, we get to know a little about them from their banter and conversation, and also about the society in which they live. Here Wilde is commenting on the hypocrisy of a society which says one thing but means the total opposite, demonstrated (very amusingly) by Mrs Marchment (Hattie Ladbury) and Lady Basildon (Catherine Kanter).
The elderly Earl of Caversham (Edward Fox) bemoans the fact that his son is idle and unmarried, but Sir Robert's sister Mabel (a vivacious and charmingly pretty Amy Morgan) defends him by giving a list of his many activities: riding, dining, visiting the opera and changing his clothes five times a day. She has a solution to the other problem too.
Patricia Routledge sails in as Lady Markby with some very pertinent remarks on society in general. She and Fox are well aware of the effect perfect timing can have on the delivery of comic dialogue and use it perfectly, but it takes the entry of Mrs Cheveley to get the show really going. There's nothing like a truly wicked character to grab the interest, if only hoping to see her get her just desserts.
The highlight of the show, however, is Jamie Glover's performance as the Earl's son, the 'idle' Lord Goring who, despite his love of pleasure, proves himself to be a true and loyal friend. His delivery, assurance and stage presence are superb as well as his perfect command of reams of fast-paced dialogue.
A tad over-long at three hours, but entertaining, amusing and very enjoyable.
Reviewer: Sheila Connor