An Ideal Husband
Oscar Wilde
Muckle Roe Productions
Rosemary Branch Theatre
–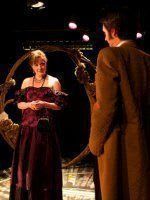 Director Charlie Ward's slimmed down production of Wilde's drama of blackmail, moral turpitude, loyalty and love cuts half a dozen of the characters and mounts it very simply. It doesn't attempt the fin de siècle glamour of the Grosvenor Square and Curzon Street establishments where it is set. It suggests their opulence with a floor painted like rich marble and a gilt oval frame which could be a mirror reflecting society's foibles, though it's not used as such but as a portal and, though designer Lucy Wilkinson has dressed it in period and the lady's dresses match their characters, her budget does not allow them to reflect that society's need to change according to the hour.
This has advantages for the audience is not caught up by frocks and architectural detail once they have registered the scene; their concentration is firmly on the actors and Wilde's words. The hint of an alchemical diagram in the patterning of the floor and the decadent curves of the gold frame belie an undercurrent of cunning and corruption of the plot rather than the propriety with which Lady Chiltern would run her establishment or the masculinity of Lord Caversham's house.
What we lose is any strong sense of the society in which these people move: their sheer wealth, privilege and the frivolousness of their conversation—a society, as Sir Robert Chiltern's sister says (in a scene largely cut), "entirely composed... of beautiful idiots and brilliant lunatics". We get the meat of the play but the contrast between the public and private behaviour of the principals is less obvious and the men in particular are sometimes left seeming too self-conscious as they elegantly pose, their gestures presumably the contribution of movement director Joe Wild. There is no furniture for them to relax on, no-one has a drink or smokes a cigarette or cigar and there is very little sense of things happening around them, the bare bones of the story are revealed perhaps a little too clearly.
Politician Sir Robert (Sunny Moodie) is being blackmailed by Mrs Cheveley about a piece of what we now call insider trading that provided his fortune. Now he is being pressured to support a very dodgy canal scheme. There is a back story, not explained, of Lady Chiltern (Rose Robinson) and Mrs Cheveley as enemies at school and Chiltern's best friend Lord Goring also turns out to have had a connection: he was once engaged to that lady whom he describes as "a genius in daytime, a beauty at night". The plot of course centres on whether Chiltern will compromise himself, whether this will make his wife reject him and how Mrs Cheveley can be outwitted.
Sheridan Johnson plays Mrs Cheveley as a confident fast-talking American, not so much quick-witted as having worked everything out carefully beforehand, though also a sharp opportunist when she sees something she can use to her advantage. She is brash enough to be not "one of us" and it is clear why the society ladies don't like her. Though she may not be a "good" woman she doesn't emanate evil either. There is no sense of the past attraction that made Goring her lover but you can't entirely dislike her, at least she seems to live in a real world compared with London Society.
The Chilterns sound as artificial as Lord Goring, a deliberate poseur, as they come out with Wilde's clever comments they don't entirely convince that they have actually thought them and strangely it is Goring who seems the more real, along with his somewhat reactionary father (Tony Wredden). Indeed a very funny proposal scene between Goring (Kieran Simms) and Mabel Chiltern (Emily MacDonald) is most revealing in showing us the real people beneath their social façades. Indeed maybe Lord Goring is the real "ideal husband" not Gertrude Chiltern's paragon Sir Robert.
The programme is embellished with a picture of a Women's Suffrage demonstrator being arrested and with the puritanical Lady Chiltern, a member of the Women's Liberal Association, expressing concern over Factory Acts and Emancipation, the production seems to be placing its emphasis on the three very different women as much as on the twists of the plot.
But Wilde makes his characters come out with the same old chauvinist argument as Aeschylus at the end of the Oresteia emphasising men as more important. That needs to be presented as much more ironic if we are to take Lady Chiltern's political enlightenment as in any way serious, but that is as much his target as her romantic idealisation of her husband.
Reviewer: Howard Loxton