An Incident at the Border
Kieran Lynn
Finborough Theatre
–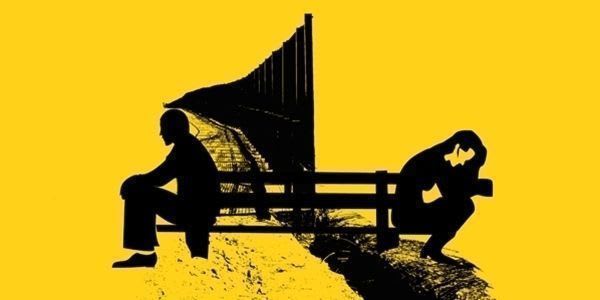 Kieran Lynn is a young Scottish playwright. An Incident at the Border was first produced as part of the A Play, A Pie & A Pint season at Oran Mor, a Glaswegian pub's lunchtime theatre, in the autumn of 2011. It has since been broadcast on BBC Radio 4 with Nigel Planer.
Olivia (Florence Hall) and Arthur (Tom Bennett) are sitting on a bench in a local park when a military guard (Marc Pickering) appears out of the bushes and tapes a line down the middle of the bench and grass. The guard says the boundary between the two nations who live side by side has been altered.
Arthur suddenly finds himself a foreigner in a foreign land and unable to return to his own country. Will the guard shoot him if he tries to cross the border? Does he love Olivia enough to lay down his life for her? Bennett has a nice quiet comic touch as a cowardly man who doesn't want to get politically or emotionally involved and would prefer to be a duck.
An Incident at the Border feels as if it was written during the Cold War era by a German undergraduate absurdist. The jejune satire on military paranoia is over-stretched to 80 minutes. The sketch originally lasted 35 minutes and that feels about the right length.
Reviewer: Robert Tanitch