An Inspector Calls
JB Priestley
PW Productions in association with Oliver Royd
The Wyvern Theatre Swindon
–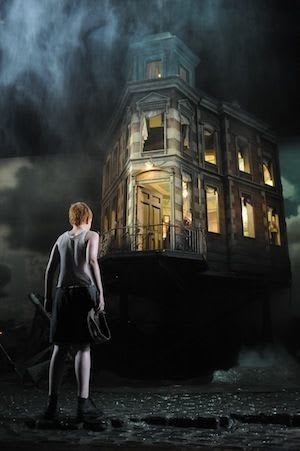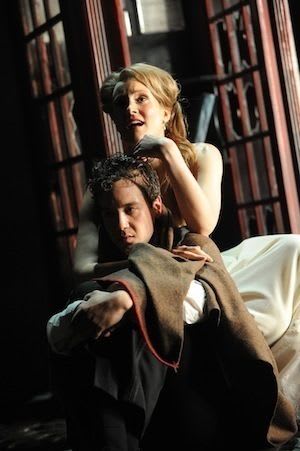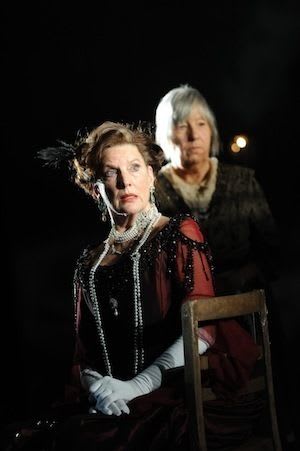 It's 67 years since J.B.Priestly's classic play An Inspector Calls was first performed in Moscow, yet his concerns over social injustice, inequality, class divides and wealth, the have and have-nots are as important today as they were then.
Stephen Daldry's impeccable production strips back the stuffiness of the Edwardian period and the claustrophobic setting of the family dining room to concentrate on the moral issues raised in this seminal play.
Ian Macneil's award-winning set is simply stunning with a fairy tale doll's house perched on stilts that opens to reveal the inside of the Birling's home and via a spiral staircase to the cobbled, bomb-shelled street where most of the action unfolds.
The affluent Birling family are celebrating the engagement of their volatile daughter Sheila (Kelly Hotten) to the arrogant Gerald Croft played by John Sackville.
Their revelry is abruptly interrupted by the arrival of an Inspector investigating the suicide of Eva Smith, one of Arthur Birling's factory workers.
At first all the family deny having any responsibility for her death but it slowly transpires that each one of them has had a hand in her untimely demise.
Geoff Leesley plays the rumbustious, forthright factory owner who sacked Eva for striking and demanding an increase in pay and so the interrogation of the family begins with some surprising and shocking revelations.
Tom Mannion is excellent as the probing audacious Inspector Goole determined to expose the family and show how much their selfish actions have affected the lives of others.
For the haughty Sybil Birling (Karen Archer) it is the revelation that she turned Eva away from her charity when she desperately needed help. For her philandering heavy drinking son Eric (Henry Gilbert) it is the discovery that Eva was pregnant whilst Sybil's daughter got her sacked from Milward's shop. But it is only Sheila and Eric who appear to have any regrets.
There was sound support from Janie Booth as the ever-present downtrodden housekeeper and a chorus of supernumeraries and children.
The ending was dramatic as the house explodes and falls apart as if a metaphor for the collapse of society. Priestley's message is crystal clear and as individuals we need to take responsibility for our actions and look after those who are less fortunate.
Stylishly directed by Stephen Daldry and moodily lit by Rick Fisher with strong evocative music by Stephen Warbeck this was a powerful and moving production. Highly recommended.
Tours to Cheltenham Everyman, Newcastle Theatre Royal, Sheffield Lyceum, Swansea Grand, Llandudno Venue Cymru, Northampton Derngate and Wimbledon New Theatre.
Reviewer: Robin Strapp