An Inspector Calls
J B Priestley
York Theatre Royal
–

Listing details and ticket info...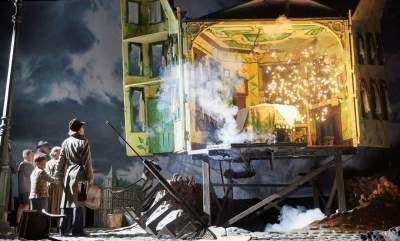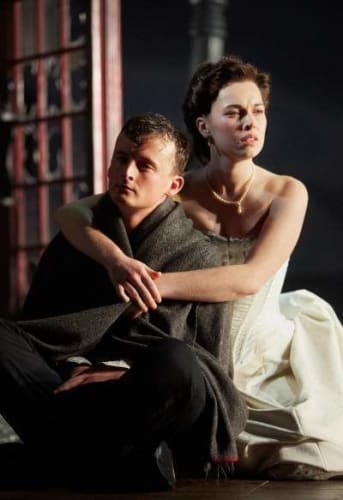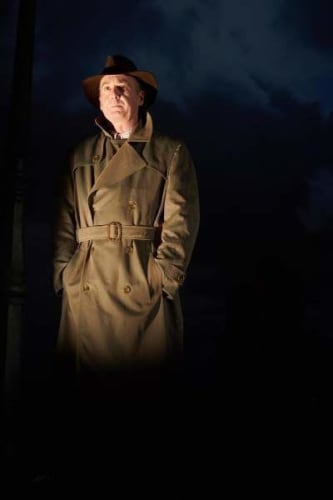 When I first saw Stephen Daldry's staging of An Inspector Calls as a callow youth, I was astounded by what I saw. 18 years later, I'm delighted to report that my feelings haven't changed.
As a mainstay of the English GCSE syllabus, the plot of An Inspector Calls will already be familiar to many theatregoers. The year is 1912, and the play opens with Arthur Birling (Jeff Harmer)—a factory owner and upstanding pillar of the community—and his family celebrating the engagement of daughter Sheila (Lianne Harvey) to the highly eligible Gerald Croft (Andrew Macklin).
Enter Inspector Goole (Liam Brennan), who shatters the family's middle-class complacency by revealing how each member of the household has contributed to the gruesome suicide of a young working-class woman.
Back in 1992, critics were baffled that a hot, young director like Daldry would choose an old chestnut like An Inspector Calls for his National Theatre debut. To a certain extent, I can see their point. Priestley's (laudable) advocacy of social justice can be heavy-handed at times and the plot structure is undeniably schematic and far-fetched.
That being said, the play's construction is ingenious and it's delicious to watch awful characters being held to account for their appalling behaviour.
Priestley's play may be a strong piece of work, but it's the input of Daldry and his collaborators that raises it to a whole other level. From the moment that the curtain rises to the brooding strings of Bernard Herrmann's score for Vertigo (1958), we are alerted to the fact that this won't be a fussy, genteel production.
Ian MacNeil's richly symbolic set design maintains the Edwardian trappings of the play—namely furniture and costumes—but eschews the traditional drawing-room set in favour of something far bolder. Much like a doll house, the Birling home is reduced in size and opens up to reveal a scaled-down interior. The rest of the set—a bleak urban landscape—can be accessed from the house via a rickety spiral staircase. The social commentary is crystal clear.
An Inspector Calls is also wonderfully atmospheric. Rick Fisher's superb lighting adds to the noirish quality of the production and Sebastian Frost's sound design is similarly evocative. Stephen Warbeck's score adds to the rising sense of unease, although I found it over-emphatic at times.
Liam Brennan commands the stage as the indomitable Inspector Goole. Jeff Harmer is delightfully pompous and self-centred as Mr Birling and Christine Kavanagh is perfectly cast as his iceberg wife.
There's a lovely performance from Andrew Macklin as Gerald, the only person to have genuinely cared for the dead woman. Lianne Harvey and Hamish Riddle both impress as the two Birling children—the characters most willing to acknowledge their crimes and atone for them.
Daldry's production is nothing short of a masterpiece, and I struggle to believe that Priestley's play will ever receive a superior revival.
Reviewer: James Ballands