An Instinct for Kindness
Chris Larner
Seabright Productions
Trafalgar Studios
–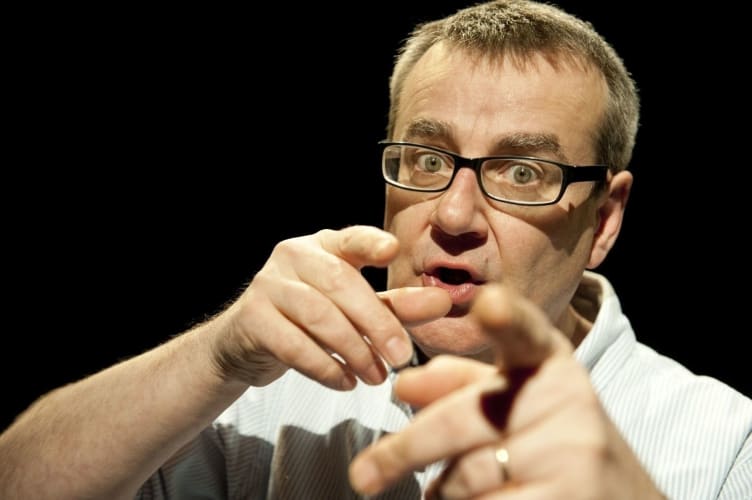 A one-man show about assisted suicide may not sound like first choice for an evening's entertainment but Chris Larner's play, which he performs himself, is an impressive achievement. One might expect it to be touching but it is much more, for it combines being deeply moving with being funny and sustains a theatrical form that moves from direct personal telling to moments of recreation, both as himself and other people in his story.
It is indeed very much his story, for in 2010 Larner accompanied his ex-wife Allyson to Switzerland to the blue-grey portacabin house of the organisation Dignitas where she ended her own life. He takes us on that journey with them, but it is much more than that journey. It is a tribute to Allyson and her achievement, a record of the love that survives between two people even when marriage ends, a reminder of the problems that have to be overcome not only in coping with illness and debility but in trying to end it, and like Allyson's life it demonstrates the transforming power of theatre.
This is not a one-sided view of suicide, it embraces doubts and objections as well as strikingly demonstrating the difficulties created by British law which no longer considers suicide a crime but does still criminalise acts to assist a person in performing it. It is a catalogue of fortitude and fighting to overcome disease as Allyson battles against her illness and of the same determination she decides that fight has end.
Larner begins with a brief prologue in which he is Allyson struggling to perform the simplest acts. It is a shocking image, even to those who have experienced the same themselves or with loved ones. He then takes us back to the beginning of their relationship as actors with Theatre Centre, through romance, marriage and pregnancy, a pregnancy during which an inability to stand led to the diagnosis of MS (multiple sclerosis) and the thought that she will never walk again. Yet, encouraged by Chris and a dazzling pair of dancing shoes she does, and builds a new career as a drama teacher, one of those enlightened and enlightening mentors who change lives, raising their son George.
Larner does not spare us the grim realities of incapacity, graphically presented. He doesn't demonstrate the privation and the pain and becomes it. He confides in us as the secret struggle, with lawyers, doctors and social workers all become potential enemies as they lay their plans and make their preparations and at last begin their journey. He takes us with him through the final stages, the actual process and makes this tragic story life-enhancing.
This is a remarkable accomplishment.
An Instinct for Kindness won a well-deserved Fringe First Award at Edinburgh last year and Trafalgar's Studio 2 makes a perfect setting for its West End debut.
Reviewer: Howard Loxton