An Officer and a Gentleman the Musical
Book by Douglas Day Stewart and Sharleen Cooper Cohen
Jamie Wilson with Galvin Kalin, Jason Haigh-Ellery, Anthony Clare and Broadway Baby Productions with Curve
Curve Theatre, Leicester
–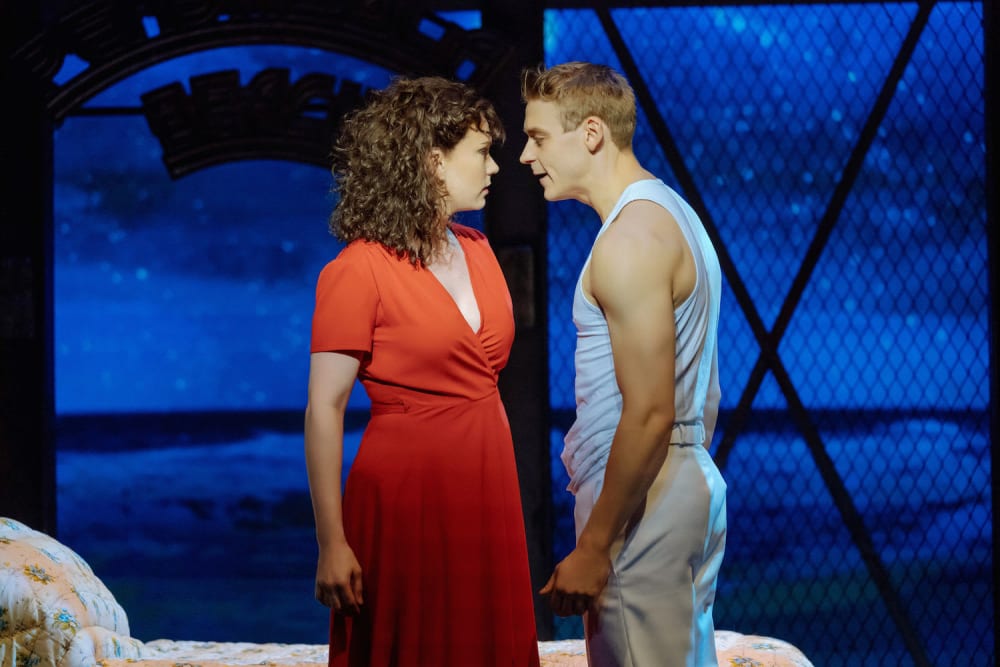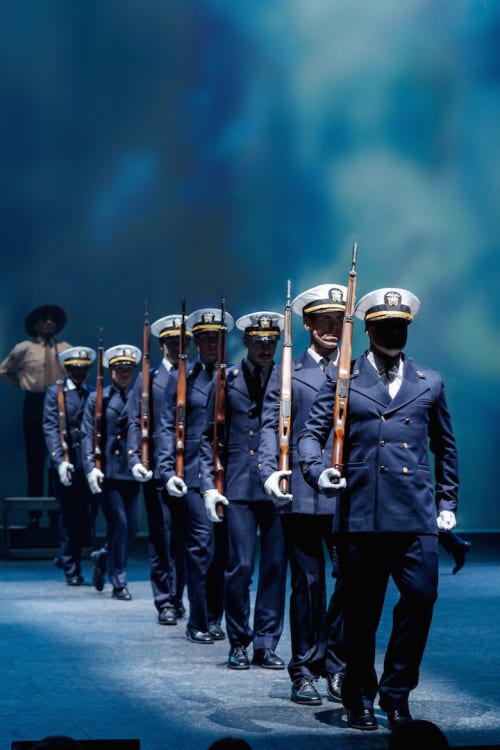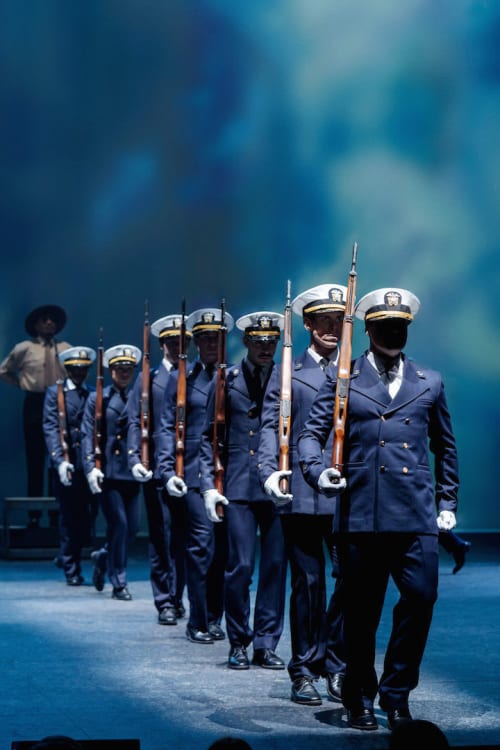 'Iconic' has become one of those over-worked words used to describe just about anything, however, the final scene in the 1982 film An Officer and a Gentleman fits the definition: a giddy mix of a man in uniform, his motorbike and a kiss-and-make-up moment, all set to the karaoke favourite "Up Where We Belong". It gets me every time at least.
Douglas Day Stewart, writer of the original screenplay, has joined forces with co-writer Sharleen Cooper Cohen and Curve's Artistic Director Nikolai Foster to bring this tale of emotional muscle and US military might over here and onto Curve's main stage for its world première as a musical. The show is soon embarking on an extensive UK tour at 19 venues, banging on the door for a West End transfer.
Set in Pensacola, Florida in 1982, as Reaganomic policies sowed the seeds for those now feeling forgotten and left behind by their government, this is a gritty examination of relatable characters trying to escape drudgery and demons.
Any worries that using pop hits from the 1980s as the basis for the musical numbers would show jukebox musicals at their worst are soon dispelled. Musical supervisor Sarah Travis with George Dyer's orchestrations and musical director Michael Riley have, in the main, successfully woven songs such as Bon Jovi's "Livin' on a Prayer" and "Blaze of Glory" into the narrative in new, sympathetic arrangements. Even Madonna's perma-annoying "Material Girl" now works for me in this interpretation.
Another key component of this musical is Douglas O'Connell's projection design, representing vast areas of land, sea and air effectively and with style, as well as a useful vehicle for several flashbacks.
US Navy Officer Cadet Zack Mayo (a brooding Jonny Fines) is wound tight, scarred by his abusive father and nomadic upbringing, and now squaring up to Drill Instructor Foley (Ray Shell). Hooking up with Paula Pokrifki (Emma Williams), she's just looking for fun and escape from her factory job and thwarted dreams of becoming a nurse. It's a rocky road, but they fall in love. Williams is edgy and believable, and delivers a storming performance of Heart's "Alone".
Zack's cadet buddy Sid (Ian McIntosh), weighed down by family expectations, doesn't read Lynette's (Jessica Daley) signs that she's after an officer to fulfil her dreams of status and world travel. These four characters' scenes during "I Wanna Know What Love Is" with their varying connotations are beautifully staged, and McIntosh's performance in "Family Man" is heartfelt and tragic.
There are moments, however, where it feels static and "stand and deliver" a song. That said, events move at a cracking pace and Fines in particular copes well with a supremely physical role. Choreography is a little patchy, although "Jody Call" is clever (and contains my first experience of equations set to music).
Fans of the film and 1980s poodle rock are likely to help this tour sell well and, judging by its reception so far in Leicester, is going down well with audiences. The focus on characters you care about ensures that those not familiar with life in the '80s should also get something from this show.
Raunchy and raw and remaining true to the film, this story has bags of ambition—not only the characters' aspirations and Michael Taylor's technically challenging set, but Curve's own hopes for the tour (and the latest in their film-to-stage musical adaptations).
Whatever your feelings regarding the musical interpretations, (spoiler alert), the finale is a real crowd-pleaser as Zack appears—his white officer's uniform free of motorbike oil and beautifully pressed—to carry Paula off and up where they belong. Bring tissues.
Reviewer: Sally Jack