An Officer and a Gentleman - The Musical
Book by Douglas Day Stewart and Sharleen Cooper Cohen, based on the original screenplay by Douglas Day Stewart
Jamie Wilson with Gavin Kalin, Jason Haigh-Ellery, Anthony Clare and Broadway Baby Productions
Leeds Grand Theatre
–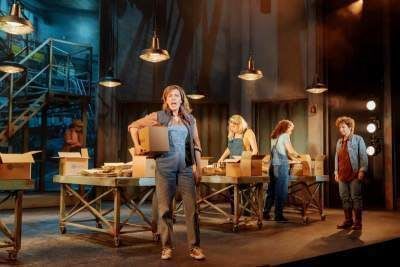 The film An Officer and a Gentleman was released in 1982—the same year as Blade Runner, Fanny and Alexander and Fitzcarraldo—and while the film is rarely spoken of as a "classic" nowadays, it garnered good reviews at the time, performed well at the box office and even scooped two Academy Awards, including one for its iconic song "Up Where We Belong".
Musical stage versions of beloved films are hardly a new thing. Just recently, Strictly Ballroom: The Musical, based on Baz Luhrmann's romantic comedy from 1992, transferred to the West End with former Pop Idol Will Young. Strictly and Officer share much in common—a jukebox soundtrack full of well-known pop songs, a pair of star-crossed lovers and a central plot that celebrates the human capacity for growth and self-expression.
Screenwriter Douglas Day Stewart based An Officer and a Gentleman on his own experience of naval training, where he too was put through his paces by a tough drill instructor. The musical, co-written by Stewart, stays close to the original film, with the caveat that the characters now express their innermost thoughts through an assortment of recognisable 'eighties hits from the likes of Madonna, Blondie and Kim Wilde.
Zach Mayo (Jonny Fines)—the role played by Richard Gere in the film—is a talented but feckless young man from the wrong side of the tracks. He wants to fly jets for the navy, but first he will have to conquer his own self-doubts—these are given voice by his bullying father (Darren Bennett), an alcoholic navy grunt—and a mentally and physically demanding course administered by hard-ass Marine Gunnery Sergeant Emil Foley (Ray Shell).
Zach's love interest, Paula (Emma Williams)—the role played by Debra Winger in the film—also wants to get ahead in life. Like her mother, Esther (Rachel Stanley), she's trapped in a dead-end factory job, but she dreams of becoming a nurse. Paula's friend/workmate Lynette (Jessica Pomeroy) also longs to escape, but she plans to so by marrying a naval officer—and she has her eyes set on poor Sid Worley (Ian McIntosh).
On the whole, I have mixed feeling about this production. I can appreciate why the producers thought An Officer and a Gentleman was ripe for musical interpretation, and the audience I watched it with appeared to have a great time, thunderously applauding at the end. However, for the most part, I'm not convinced that the jukebox approach works in this instance.
The first musical version of An Officer and a Gentleman was staged in Sydney in 2012 with an original songbook by Ken Hirsch and Robin Lerner, but it closed after six weeks. This new version includes such songs as Bon Jovi's "Livin' on a Prayer" and Cyndi Lauper's "Girls Just Wanna Have Fun", and while these songs are energetically performed by a talented ensemble, they don't have much emotional resonance. There were points during the second half where the production felt like a litany of disjointed pop hits, with very sense of overall cohesion.
This production also lacks the grit of the original. Don't get me wrong, the film is essentially a piece of escapism, but director Taylor Hackford did a sterling job of evoking the financial and emotional poverty of Paula's home life. The stage version tries to capture the monotony of working in a factory, but this doesn't pay off to the same degree.
The production is lifted, however, by the quality of its performers. Standouts include Emma Williams, a four-time Olivier nominee, who counteracts the musical's old-fashioned sexual politics by imbuing Paula with pluck and inner strength, and Ray Shell as the tough nut drill sergeant, who steals the show every time he appears on stage.
I was also enthralled by the fluidity of the staging. The set design (Michael Taylor), lighting (Ben Cracknell), sound (Tom Marshall) and video projections (Douglas O'Connell) work together to great effect, cleverly evoking a range of different locations.
Despite my caveats about the show, I must admit that I had fun. And I definitely got goose bumps when they recreated the film's iconic ending.
Reviewer: James Ballands