Anansi and the Magic Mirror
Geoff Aymer
Talawa
Hackney Empire
(2009)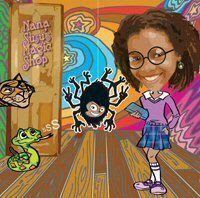 Anansi is the original Spider Man, a half-man half-spider that is part of the African tradition that slaves took to the Caribbean and the States. Though he lies and cheats a bit to get by he is the hero of dozens of stories and new ones are appearing all the time. This one gets him mixed up with Obeah sorcerer Nana Susu and her daughters: the good Adjoah and the bad Lilith, on whom her mother has cast a spell to send her to the nether world. Unwittingly Anansi lifts that spell. Wicked Lilith seizes power and turns the land's joint kings Bredda Lion and Bredda Tiger into captive pussy cats. Can Anansi and young Adjoah out things right again?
It is a lively romp staged in Rosa Maggiora's simple and colourful sets tricked out with songs and energetic choreography; indeed the numbers tend to dominate the show, though the amplification, enough for a carnival sound system, doesn't help in hearing many of lyrics.
Director Paul J. Medford has assembled a splendid cast, several of whom will be familiar from pantomimes at Hackney and at Stratford East: Kat B is Anansi and Tameka Empson Nana Susu but I felt they could have been given more to work with. Kat's Anansi relies almost entirely on the vigour of his stage persona and Tameka is little more than a front cloth link for the first half, this doesn't exploit her skills. Marcus Powell is quite delicious as a so-posh and so-English Lion, in a sand-colour suit and long blonde hair, paired with Darren Hart a street-wise Tiger. Susan Lawson-Reynolds could be more evil as the wicked Lilith but she is gorgeous as a capering monkey, while Sophie Benjamin is all naïve innocence as Adjoah until she takes up with a gang of hoodies.
This is a show that is on the edge of pantomime in style and, though being advertised as suitable for aged 8+, is also trying to cater for a grown up audience with the satirical hoodie sequence for instance and some material about visa problems. It is all very much up-front but with not much to stimulate a young audience's imagination and at over two hours a little too long for some very little ones in the audience. It is fun but I expect something of higher calibre than this from a company with Talawa's past record.
Until 7th March 2009
Reviewer: Howard Loxton