and breathe...
Yomi Ṣode
Almeida Theatre
–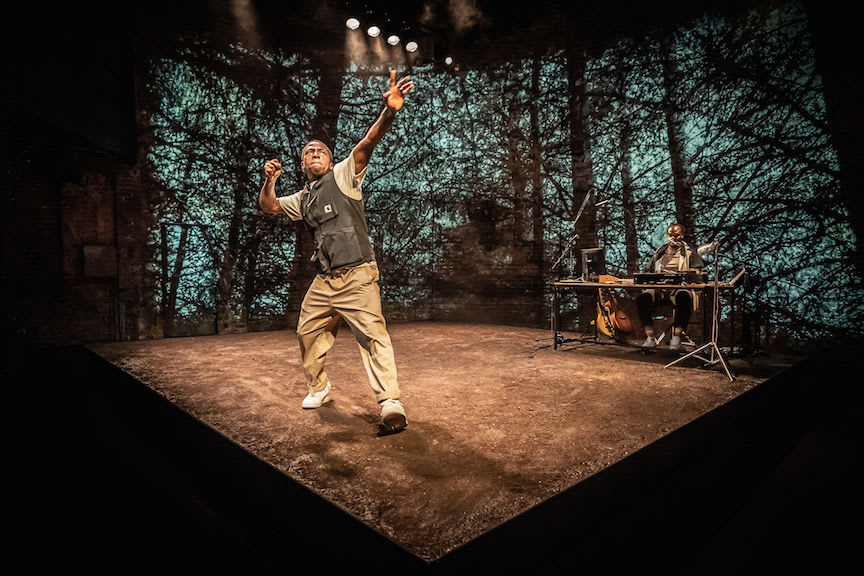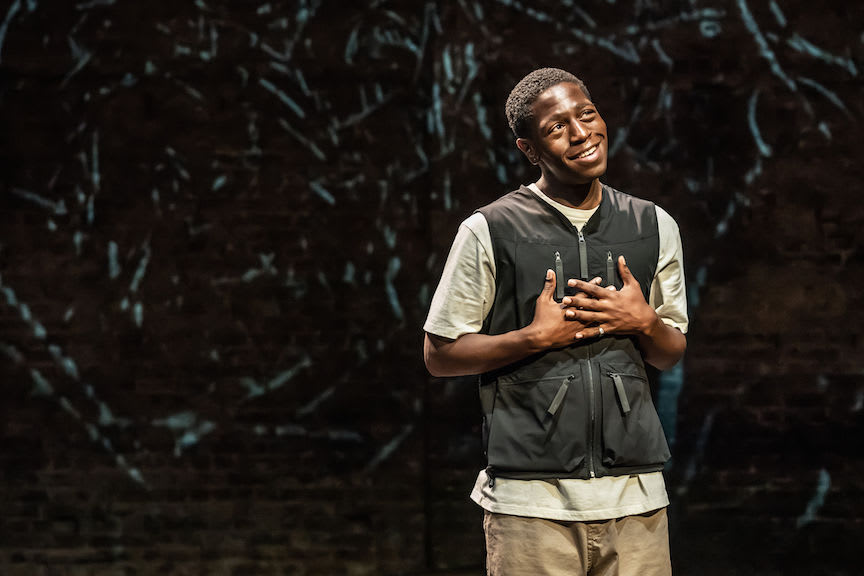 This is a staged version of poems by Nigerian British writer and performer Yomi Ṣode that are to be published next spring in his collection Manorism. They become a very personal monologue about guilt, grief, family and happy times, an hour-long sharing, played by David Jonsson as Ṣode's autobiographical Junior.
But, as directed by Miranda Cromwell, this is not just a monologue. Upstage of Jonsson is musician Femi Temowo on keyboard and guitar, not just underscoring the actor but often making the music part of a dialogue. Behind them both are Ravi Deepres's videos: at first, text explaining a blood toxin that disintegrates into a shower of fragments, then a silhouette white against darkness before a succession of images of forest and sea that don't illustrate what is said but match its emotions.
Foremost in Junior's mind is the death of his grandmother, Big Momma. He didn't even know she was ill until told by his uncle Ade (an uncle who is younger than he is). He was too involved with his own wife and child; two years have passed since he paid her a visit. (The things you should have done, the things you would have said if you'd only known: you've probably been there.)
Junior tells of Big Momma's last days, given palliative care in a hospice, a telling that is in the moment: "I think she may die on my birthday." As the eldest male of a Yoruba family, he knows his responsibilities. Now he can feel the weight of her coffin as he bears it on his shoulder. But he also looks back to when his family first came to Britain, to his background, his own growing up, his debt to his family. "Everything I know about masculinity I learned from my mother," he tells us. Sometimes, he will introduce a new character with a lively impersonation—for there is humour here too.
David Jonsson is physically expressive right to the tips of his fingers and keeps up the energy, occasionally refuelled as he turns upstage to interact with Femi Temowo or share a grin with the audience. This is a very particular partnership and it is a production to which every element contributes, not least Paule Constable's subtle lighting.
COVID has given us a plethora of online monologues but this one is special—and it too is promised for live-streaming though details have not been announced yet.
Reviewer: Howard Loxton