And Then There Were None
Agatha Christie
The Agatha Christie Theatre Company
Richmond Theatre
–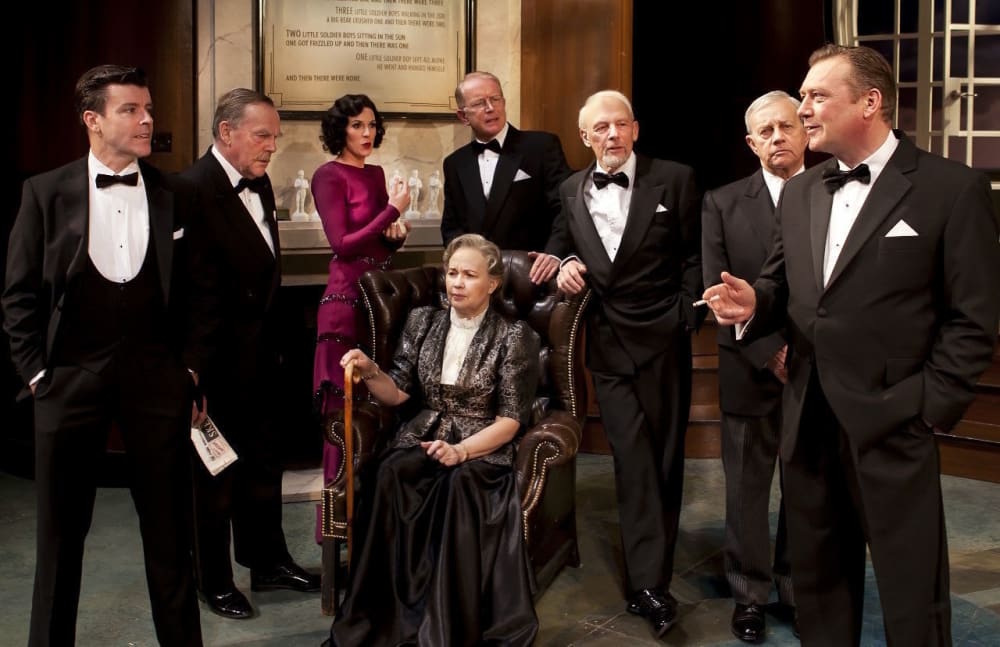 Much read, much loved, much adapted and (let's face it) much parodied, Agatha Christie's And Then There Were None reveals its undiminished ability to grip in Joe Harmston's excellent new touring production, which is at Richmond Theatre this week.
The production is being staged to mark the 10th anniversary of the Agatha Christie Theatre Company (and also the 125th anniversary of the author's birth), and it's a show that demonstrates the best of what this touring troupe has to offer. Part of that is due to the strength of this particular text, which goes deeper—and darker—than many of Christie's works in its exploration of guilt, punishment and responsibility.
Ten strangers are summoned to an isolated island house. Banter and chit-chat—and the realisation that none of them actually knows their host—are brought to an abrupt end when a gramophone recording abruptly announces something startling: namely, that all of the guests are responsible for a crime of some kind. And one by one, each of the assembled company is eliminated, following the pattern dictated by the nursery rhyme that's inscribed in a frame on the wall.
Say what you will about the creakiness of some of the exposition here, Christie's craftsmanship is as undeniable as it is admirable. It's easy to forget, given how prolific she was, but at her best this writer really knew how to create dramatic plots and audience-confounding revelations, and how to build suspense through dialogue and the incremental revelation of character. Here she adheres to the three classical unities for claustrophobic effects, cutting her characters adrift from the rest of the world so that there's no hope of escape from the killer—or from their own consciences.
Harmston is clearly affectionate towards the material and he resists the urge to put the play in quotation marks by presenting it as high camp. There's humour, certainly, and a couple of moments where hokiness inspires giggles, but for the most part, the production supplies its scares and twists with satisfying precision, aided by a fine lighting design by Douglas Kuhrt. The production also scores by incorporating a chilling conclusion closer to the ending of the novel rather than the sanitised climax that Christie cooked up for her original stage adaptation.
Predictably enough, Harmston marshals the talents of a TV-favourites cast here, among them Paul Nicholas as a former judge, Mark Curry as an ex-alcoholic medic, Susan Penhaligon as a self-righteous biddy, Frazer Hines and Judith Rae as a butler/housekeeper couple, Colin Buchanan as a shady private investigator and Verity Rushworth as a secretary. As the characters deny past actions before being forced into a moment of confession, succumbing to paranoia and accusation, the actors offer juicy but not OTT turns. In particular, Nicholas's delivery of his character's final line—one that brings the whole play together—is supreme.
In short, while there's nothing really essential about this revival, the shrewdness of Harmston's approach means that, as resolutely old-fashioned entertainments go, it's hard to imagine a more entertaining one than this.
Reviewer: Alex Ramon