Hans Christian Andersen's Fairy Tales
Adapted by Rafe Beckley
Red Table Theatre
Pleasance Theatre, Islington
(2011)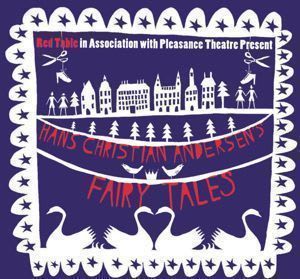 Red Tables's last piece for children was a successful and imaginative adaptation of Rudyard Kipling's Just So Stories; now they have turned their attention to Hans Anderson. They have chosen to present their versions of The Emperor's Nightingale and several other stories that are less well known, in fact ones I had never heard of: stories about a collar and its attempt to find a bride, of a competition to present the most incredible thing and one of a farmer whose wife sends him to market to sell their horse and swaps it for a succession of other animals.
To these they add a couple of Danish songs: one about a dress and another about some kittens. The first gets an English translation and then the Danish version is repeated between the stories as the production's simple props are reorganised and another of the four actresses drapes a piece of cloth around her to make a different dress. The kitten number provides the opportunity for the audience to join in the chorus and do some kittenish actions. I didn't really get the point of the dress song, perhaps the girls in the audience liked it better, but all the youngsters liked joining in and being kittens.
It is a delightful idea to remind children of the Danish origin of these stories but for a very young audience I would have thought it would have been better to sing in English, with just a little Danish, especially as no attempt was made to give the stories a Danish setting. This is a show promoted as aimed at four years old and up. Do pre-school children even know that Denmark is a country let alone anything about it?
In fact I think much of the audience I watched with seemed to be even younger than four and crying tots being taken out at several points were a distraction that some of the others found more interesting than what was happening on stage. It made my heart go out to the performers who are full of vitality and enthusiasm.
I like the way in which all the small children are brought to the front, with plenty of cushions for them, and mums encouraged to sit at the back. Things began extremely well with Lizzy Johansen (yes the name is Danish and she does have Danish roots) welcoming them and creating a good rapport and then the surprise appearance of her colleagues Helen Foan, Marie Fortune and Rebecca Harper from unexpected places.
Director Rafe Beckley has devised a minimalist "poor theatre" production that could be mounted almost anywhere. It uses a number of trunks and boxes that can turn into furniture and from which props and other items can be produced. The adaptation passes the narrative of the stories between voices with dialogue sections acted rather than being full dramatisations. There is some clever creation of a succession of animals from pieces of cloth: a brown bundle becomes a horse's head, a quite complex cow shape is pulled from inside it and from that a white scarf that becomes a sheep, a white gloved arm holding a red beak makes a pillowcase into a goose and just a hand under a red cloth creates a hen, but they either need more sleight of hand so that they surprise us or to be more consciously formed so that the creation itself intrigues—two approaches to theatre magic, either of which can be effective. At the moment they fall between—but I saw only the second performance before an audience and the effect may be different as the run develops.
Much less effective are the cut out bits of paper used to represent the items of clothing that people the first story. They certainly don't help to create interested in a story about collars, bow-ties and garters, scissors and a comb. (Has any present-day four year old ever seen a detached collar?) Why on earth choose this story when there are so many better? Certainly the Collar has a strong personality: he thinks he is God's gift to women; neither the story nor its moral seem to match the intended audience.
The farmer and his wife and the nightingale stories give the cast momentary opportunities to act but the text slows things down. Discovering new words can be exciting, even long ones but not too many and they need supporting action. These stories were only half way turned into theatre and I did not feel they had sufficiently stirred the audience's imagination. Significantly when, after the performance, they were asked if they would like to see any of the animals. They asked to see the sheep but given the chance almost all of them instead rushed to look at the glittering little mechanical nightingale and its music box.
Perhaps this production will prove more effective with older children but there is a cut-off point at which kids think they are too grown up for anything so firmly labelled fairytale. At the moment it is the actors' personalities and their energy that hold the majority of the audience for the forty-five minute the show lasts rather than the impact of theatre's magic but nevertheless they seemed to have enjoyed it.
"Hans Christian Andersen's Fairy Tales" runs at the Pleasance Theatre until 31st December 2011
Reviewer: Howard Loxton