Andrea Chénier
Umberto Giordano
Cmajor / La Scala, Milan
Released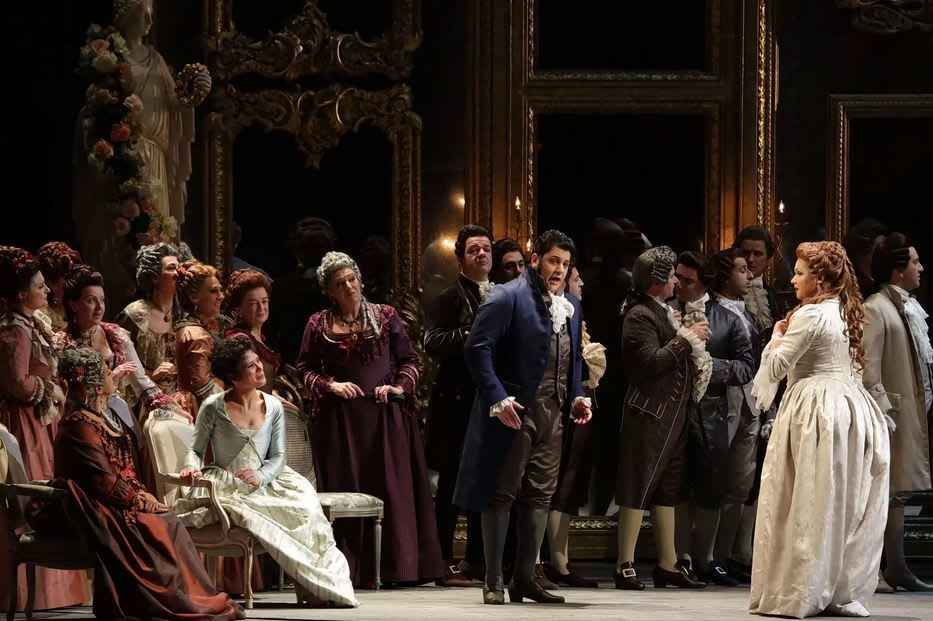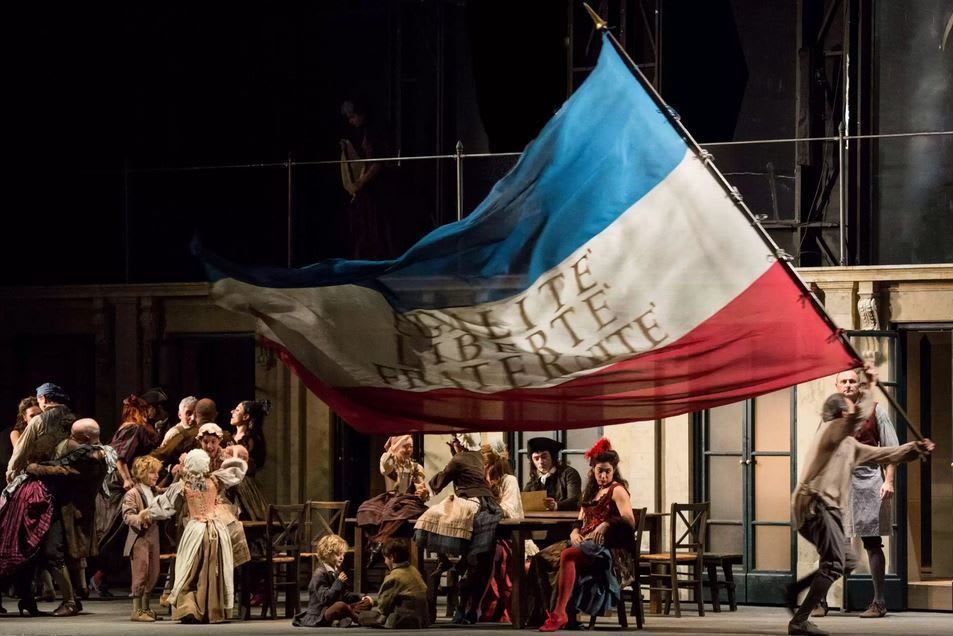 There was a certain piquancy at the presence of so many of Italy's aristocrats in the audience for this gala performance of an opera set in Revolutionary times in which French aristos are sent to the guillotine.
In fact, one character that many of La Scala's feared loggionisti expected to get the critical chop was the relatively unknown Yusif Eyvazov, who conspiracy theorists hinted had got the part of Chénier because he happened to be Anna Netrebko's husband.
They were to be confounded. For the Azerbaijani tenor's triumphant performance that night really established him at the highest level of international stardom.
He has one of those distinctive sounds recognisable from a few notes. His enunciation is clear and emphatic throughout the range and top notes have a bell-like quality. What really impresses is his highly-skilled control of piano phrases, especially the gentle expressions of love that he sings so tenderly.
Eyvazov seems to grow in confidence through the performance, his "Si, fui soldato" and "Come un bel di di Maggio" eclipsing the more famous, opening aria "L'improvviso", and the voice complements that of Netrebko beautifully in their love duets. He is, however, no more than a passable actor, and his concentration on the conductor rather than his beloved during such moments rather dissipates their effectiveness.
Netrebko's Maddalena seems at first uncharacteristically restrained—although not always a bad thing in her case—coming across more as a grande damme than an impressionable young woman in the first act. The voice nevertheless is magnificent—hearing that luscious sound is like being smeared with honey—and she rather saves up the impact for her showstopper toward the end, "La mamma morta", in which a thrilling, climactic top Bb is followed by a dramatic plunge into the depths.
The impact was all the greater for not being followed by applause, conductor Riccardo Chailly having dissuaded the audience from interrupting, for the sake of continuity.
Andrea Chénier was first performed, also at La Scala, in 1896, the year Puccini started to compose Tosca, and there is a clear anticipation of the latter opera's bad guy Scarpia in the character of Carlo Gerard, who offers to arrange Chénier's release in return for Maddalena's sexual favours.
Gerard is the only character of any depth, and baritone Luca Salsi plays him as a nuanced, tortured personality, driven to denounce Chénier by the ghostly and intimidating figure of Carlo Bosi's Il Incredibile.
Director Mario Martone and designer Margherita Palli rely on a traditional staging, waving tricolors, a passing tumbrel, an altar with a bust of Marat, and a rotating set that avoids any breaks in the transformation from one scene to the next contrasting one.
At the outset, guests at a society ball are frozen in time like dummies, to be treated as such by the liveried servant and future revolutionary Gerard. Particularly successful is the use of soft, flexing mirrors that make the reflected aristocrats appear to tremble, while the starving masses stare through transparent ones, mocking the despised world of gaiety and gavottes.
Chailly conducts the richly orchestrated score with verve, attention to atmospheric detail and blistering climaxes, but always at a level that supports, never overwhelms the singers.
This fine production does not quite match the intensity of David McVicar's 2015 realisation for Covent Garden with Jonas Kaufmann, Eva-Maria Westbroek and Željko Lucic, but it comes close, and is memorable for the emergence of a new tenor voice of world class.
Reviewer: Colin Davison