The Madness of Andrea Yates
Tauri Kinoshita
Cruel Theatre
Etcetera Theatre
(2011)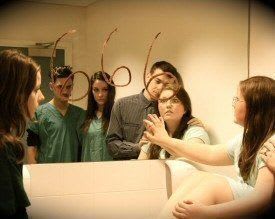 Texan Andrea Yates murdered her five children back in the early 2000s believing she was purifying them, saving them from sin. At the time there was a media frenzy and The Madness of Andrea Yates is an attempt, this much further down the line, to piece together her story and the factors that made her illness what it was.
With some brilliant acting, a creative and careful use of the source material and a powerful grasp of the theatrics of madness, this piece of documentary theatre pulls no punches even if it does play it a little safe.
Andrea is, unsurprisingly, the backbone of the show and Kathryn Lewin meets and exceeds this demanding role beautifully. Using actual dialogue from Andrea's interviews and transcripts, there's a definite sense of authenticity even in her most theatrical scenes and we sympathise with Andrea, even while knowing what will come.
What this production does really well is present Andrea's madness. Powerfully staged, with Andrea's demons sensually intertwining with her, everything else melts away at these points so that we are faced directly with a disturbing rawness.
Both in the inside of Andrea and the out are represented by a trio of voices. Flitting between being her good/bad demons and the people she meets, there's an incredibly well developed physicality to each of their roles so that even characters on stage only for a few seconds have a fleshed out feel.
This technique also allows from some great interplay between Andrea and her inner voices, where she'll mirror one's movements or be distracted by another, dramatically showing her fluctuations in her illness.
Going through her past we see how the influence of religion, gender, family pressures and the failings of the medical industry have brought her to where she is now.
What clear social commentary there is, such as on the cruelty of the American medical insurance system or on the incompetence and lack of care provided by medical professionals, is always built into to her story, made part of her increasing isolation in her mind. Her husband too, played by curiously Irish sounding Tom Woodards, is not a distant bully but another trapped individual.
What becomes clear is how circumstances were stacked against her and while, in many ways, her breaking down was exceptional, it was far from unexpected. The play opens with Andrea killing her children and this sense of inevitability is continued through out: to change Andrea's story would mean changing the system of thought and policy surrounding her and her husband.
Documentary theatre best sums up this production and this is far from a dismissive description: taking only Andrea's internal mind into account would be less than half the picture and the voices provide a needed contextualisation and social commentary.
Nonetheless a certain heavyhandedness pervades throughout the night. In many ways it's hard to see how else to treat her case and the deft realisation of her story makes this more niggling than alienating.
Yet there's something safe, something underexploited in this approach. While being extremely ambitious and daring on stage, the audience is never unsure where to stand, even if they don't like where they are, and the sense of closure at the end, while appropriately horrific and theatrically satisfying, is a little too neat, a little too secure.
While incredibly good and brilliantly performed, it remains not quite demanding or unsettling enough. There's something of the tearjerker here so, while the performance is direct, powerful and subtle, it's a shade too emotionally manipulative.
Nonetheless, more than simply thought provoking or emotionally compelling, The Madness of Andrea Yates is some brilliant theatre that's very nearly completely satisfying.
"The Madness of Andrea Yates" runs until 22nd May, then from 31st May to 5th June at the Etcetera Theatre
Reviewer: Tobias Chapple