And the Horse You Rode In On
Created by Told by an Idiot
Co-produced by Told by an Idiot, Drum Theatre Plymouth; commissioned by Barbican and Brighton Festival
West Yorkshire Playhouse, Leeds, and touring
(2011)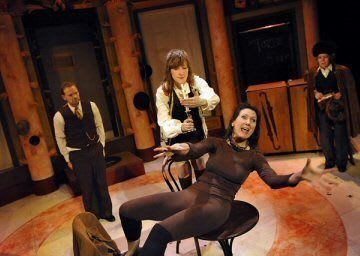 The title is the punch line of an old joke and so far as I can tell is not related to the play. Though the play starts with a splendid telling of the joke.... And ends with a nod in the joke's direction. The various featured influences of Fo, Brecht, Gunter Grass, Are you Being Served, and, surely (though not mentioned in the programme), Conrad... oh yes, and Hitchcock.... are not related to each other. They just pretend to.. or maybe it's all too clever for me. But for me it points to the rhinoceros in the room - these interwoven developing sketches lack the interconnectedness of an authorial voice. Get a writer. Oh yes, ask her or him to cut thirty five minutes. Ninety is too long for mayhem. Fifty five would be wonderful! But whatever else you do - don't give up!
Heh! Never mind. This is ninety minutes of bravura theatre. Five on stage though it feels like fifty, because they are tumescent with talent and theatrical skills. So, whilst not bringing in the trickle and tidal waves of laughter they might have expected, because the overall comedic structure is all wrong, this team are continuously delightful. Joy to see such precision of body language and comedic and theatrical invention.
Unusually in these days for touring companies of this ilk, Told by an Idiot respects the intelligence of its audience and, allowing for the Are You Being Served thread (often in German), does not rely on the formats of recent TV comedy shows. Except, of course, Monty Python.
Playing to 2nd April 2011 and touring
Philip Fisher reviewed this production at the Barbican Pit
Reviewer: Ray Brown