Angels Among the Trees
Jonathan Holloway
Nottingham Playhouse
(2004)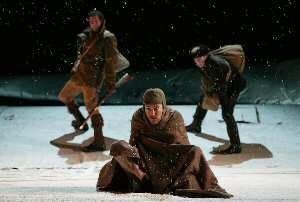 It was probably the hottest night of the year so far. The audience perspired noticeably, programmes were used as makeshift fans and the ice-cream sellers were in great demand. Yet on stage we were watching the world premiere of a play which featured snowstorms, blizzards and people dying from hypothermia.
Before long the theatregoers forgot about the heat and became engrossed in a startling new work which tests their understanding of humanity and tolerance to the maximum.
Angels Among The Trees is essentially the fictional account of the real-life Donner Party, the American pioneers who left Missouri in 1846 to go west in search of a better life. But the play is much more than that: it's about cannibalism and the choice the survivors have to make as to whether they die or eat the only source of nourishment available to them.
Angels Among The Trees examines the experience of individuals who subject themselves to extreme adversity in the hope of proving that the grass is greener elsewhere.
The Donner family joined forces with other emigrants and set off on a 1,800 mile trek, hoping to reach California before winter. The 87 pioneers decided to take a short cut which adventurer Landsford Hastings claimed would save them hundreds of miles. But they missed a safe passage by one day and ran out of supplies. Only 42 of them survived.
Reviewer: Steve Orme