Do Animals Cry?
Meg Stuart
Damaged Goods
Kaaitheater, Brussels, and touring
(2009)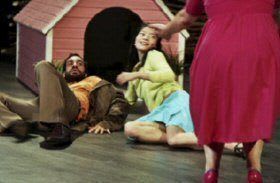 Meg Stuart's latest piece for her company Damaged Goods is undoubtedly concerned with that (reputedly) most social of animals homo sapiens sapiens in its most interactive environment: the family group. Do Animals Cry? explores the confounding complexity of human emotions and slippery involvements at the heart of family life: love, sexuality and jealously, frustration and irritation, comfort and competition form the core of an ever shifting series of relationships in which grown-ups can behave like infants and children can have mature insights. And at one point or another, both adults and children alike are needy, nurtured and suffocated.
Stuart understands the family dynamic, especially how it can stifle women, how mothers and daughters have their sexuality defined by social norms. In Do Animals Cry? the dancers are protean beings, switiching identitites, playing roles, evading restrictions, squirming in familiar straight-jackets, releasing joyful bursts of eroticism. It is clear that the family, dysfunctional since Adam and Eve created the first nuclear family by giving birth to Abel and Cain, represses as much as it enables.
This all sounds like heavy going, and in places there is an awesome sense of fear and foreboding, underscored by the music. However, at other moments, there is tenderness, sometimes gentle, often stultifying, as parents strive, from a misguided sense of love, to suppress expressions of selfhood, as much as they calm nightmares. And there are enough funny situations to elicit chortles of delighted laughter from the audience.
The music by Damaged Goods' composer Hahne Rowe underpins the mood, running from anxiety to rock 'n' roll, passing through sweet longing, anger and sensuality on the way. The set is both symbolic and functional: high above hangs a huge but very bourgeois chandelier; stage left a wooden kitchen table and chairs; stage right a large pink dog kennel with potted plants either side of the opening representing the family home with considerable irony. Upstage, spanning the space, is a curved tube constructed of rough sticks, a huge slug, equally a tunnel, a wattle vagina.
Dance in its most postmodern form is a liberating medium, allowing choreographers and dancer/performers the utmost freedom of expression and the license to engage with an audience through tantalising combinations of verbal, corporeal and musical signification. Postmodern dance can switch from laughter to tears, can mingle the abstract and symbolic with the deeply personal; emotional situations and narratives can diverge and converge in meaningful patterns. Each dancer can embody a multitude of personnae which emerge and evolve and then vanish only to reappear later.
Meg Stuart, who moved from her native America to Brussels in the mid-90s, has worked with an impressive range of dancers, directors, live and video artists throughout Europe and is a regular and much-applauded guest at the Festival d'Automne in Paris. With her own company, Damaged Goods, she explores a mingling of movements ranging from the everyday to the subtlest of muscular expressions. Her dancers can run and strut across the stage or squirm and writhe on the floor groaning or giggling, intermingling limbs in rapidly changing contortions, evoking while avoiding standard cliches. For a few minutes they stand still, in a family configuration, as one by one they push a stuffed Labrador across the stage to fetch a stick: happy family with irony intended.
Anja Muller, a largish lady for a dancer, plays the mother with phenomenal presence, sensuality and panache, balancing nurture, anger, boredom and eroticism magnificently. In one section, she plays the drums with defiance as her child, sitting at the table with bland expression and tone of voice tells us: Mum thinks she's a rock star; Dad's left home. Muller also reminds us that women don't become a-sexual beings when they become mothers. In a series of superb configurations, she relishes a robust sexuality. Kotomi Nishiwaki as a daughter dances her painfully blossoming adolescsent sexuality, rich with all the ambiguities incumbent on the process.
The men compete, play sexual games, suffocate each other, sometimes through love. Stuart has evoked all this through movements that exhibit none of the conventional signification attached to the movement-based language of pain, fear, sexuality and love as we see how families exist both to nurture and support as well as to socialise and repress.
At 120 minutes, the performance is a trifle long, but it is a fabulous vehicle for exploring some of societies most sacred taboos.
Reviewer: Jackie Fletcher