Anita and Me
Meera Syal, adapted by Tanika Gupta
Birmingham Repertory Theatre in association with Theatre Royal Stratford East
Theatre Royal, Stratford East
–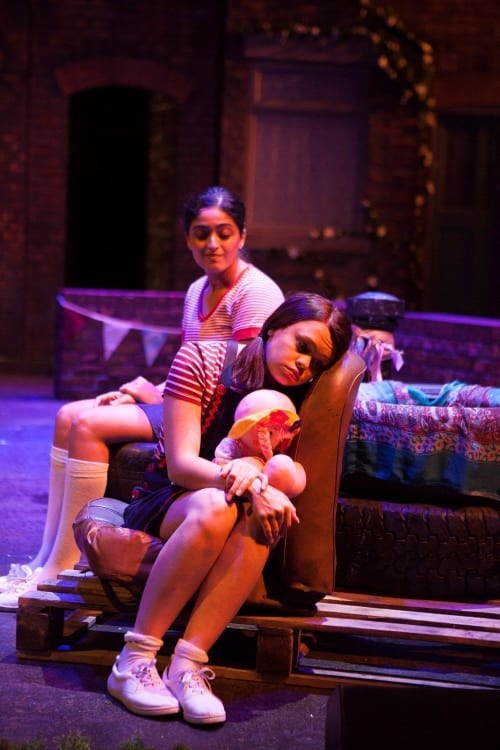 Meera Syal's novel, set in a fictional Black Country former mining village, is about Meena, a Punjabi girl growing up the only Indian family in a white working class community. She struggles between her family's culture and her wish to be part of the white world and especially to be a friend of popular neighbour Anita.
It is a picture of 1970s racism but though some things have changed (Indian food would no longer be thought peculiar) it is still very relevant.
Tanika Gupta's adaptation wisely does not try to squeeze in the whole book but in packing as much in as it does it feels very episodic and that is given emphasis by the way director Roxana Silbert has staged it. A right angle of solid-looking terraced houses encroaches on most of the stage space, though there is something very unreal about them (perhaps it is the exterior door handlesI—I've never seen those on a Victorian terrace).
Most of the scenes are played out on the street, even those presumably set in Anita's bedroom with its pop posters that make use of a front area wall. Other times, walls turn into tables, sometimes with flats revolving to show a picture hung interior. Indeed all the flats revolve to great the setting for one key scene, though a very short one.
There is no problem in establish location but the methods are inconsistent and this adds to the sense of fragmentation. Although the core performances are played realistically, some comic elements are very overblown. With interpolated songs and the separation of scenes to rearrange scenic pieces, this risks becoming a series of revue scenes.
Mandeep Dhillon's lively, slightly gawky Meena and Ameet Chana and Ayesha Dharker as her parents create a sense of a real family. Jalleh Alizadeh gives her good-looking blonde Anita a vitality and confidence that help explain why Meena wants her friendship, despite the arrogance with which Anita treats her.
Chris Nayak and Kiren Jogi play a tradition keeping, well-set up couple from Wolverhampton, something of a cliché now in Indian comedy, but nevertheless recognizable to every Indian in the audience, despite their excessively well-behaved, over-dressed daughters.
Joseph Drake's Sam, who fancies Meena but then becomes Anita's boyfriend, offers an accurate picture of a disadvantaged young man who is racist but can be colour-blind when he chooses. Among other neighbours, Janice Connolly as kind-hearted Mrs Worrall is entirely believable, though a portrait of a god-freak promoting missions to Africa seems pure music hall and rather blunts the points her inclusion makes about racism.
There is much in the evening that is very enjoyable, including the songs (especially when they add Indian colour), but this production takes on more than it can handle. A strand about the effects of redevelopment and what it does to the community has no time to make its point.
The setting itself serves that aspect but is so dominant that sometimes the cast seem to be competing against it. A simpler, less busy production might be able to embrace the density of what the play sets out to say.
Reviewer: Howard Loxton